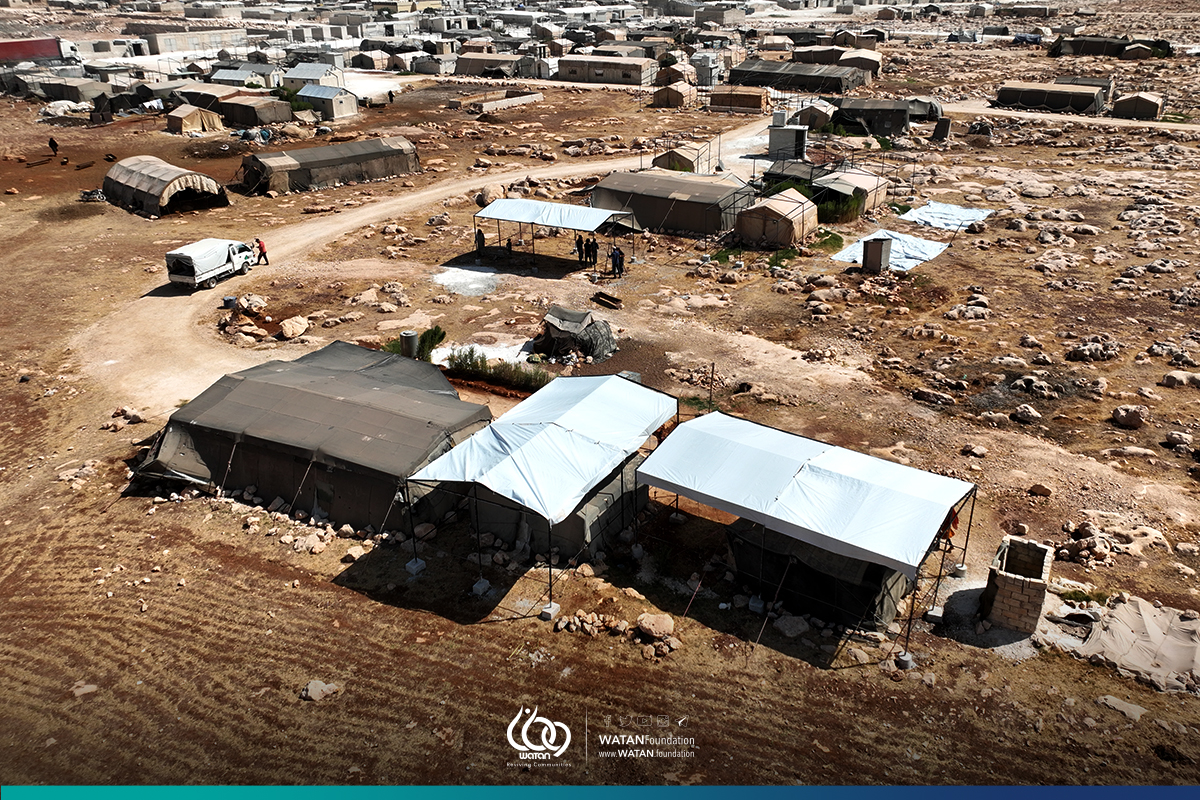 In the heart of northwestern Syria, where displaced families find themselves seeking refuge in tents with minimal insulation, they are in a constant battle with the elements. The reality of extreme heat and bitter cold is that many families are forced to endure sleepless nights outside their tents risking their well-being. These weather conditions represent a daunting challenge for displaced families, but WATAN has stepped in to help those affected.
WATAN's commitment to improving the lives of displaced people can be seen by taking a look at the Non-Food & Shelter Program. This initiative aims to provide secure and suitable shelter solutions that address the unique challenges faced by displaced families. At the heart of this program lies the Solar Canopy Project, a groundbreaking endeavour that promises to regulate temperatures inside tents without causing discomfort.
What sets the Solar Canopy Project apart is its focus to quality and precision. These sun canopies are engineered with superior strength, capable of withstanding the unpredictable weather conditions of the region. The result is effective shading that transforms the tent experience for families, making summers more bearable. WATAN's team of specialized engineers ensures the precise installation of these canopies, maximizing their benefit for displaced individuals.
The Solar Canopy Project is set to make a significant impact in the northern countryside region, specifically targeting the Badr al-Hoss and al-Bashir camps. With plans to install 1,000 canopies in these camps, WATAN aims to improve the lives of countless displaced families.
The Solar Canopy Project stands as a testament to WATAN's innovation in addressing climate-related challenges. Under the umbrella of the Non-Food Shelter Program, it represents a beacon of hope for displaced families. This initiative not only provides shelter but also supports livelihoods, contributing to an overall increase in well-being and safety for those residing in northwestern Syria's camps.
As the season draws to a close, the role of WATAN Projects remains pivotal in building bridges of hope and communication. These initiatives extend a helping hand and improve the quality of life for countless individuals.
Ultimately, our true worth is revealed in our actions during trying times. By extending our reach beyond borders, we can construct a future of hope and progress, where humanity takes center stage. Your support strengthens the foundation of WATAN's humanitarian work and fosters a world where compassion and awareness guide us all.
In a region where hope sometimes seems distant, WATAN's Solar Canopy Project is a beacon of resilience and innovation. Together, we can be the driving force behind positive change, impacting the lives of displaced families in northwestern Syria. Join us in building a future where humanity's enduring values guide our actions and create a better world for all.