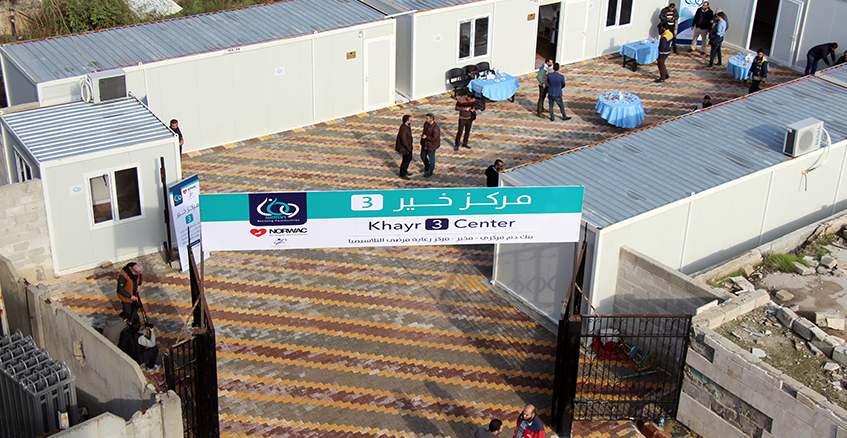 In order to alleviate the suffering of Thalassemia patients in Idlib, WATAN Foundation's medical center (Kheir 3) in addition to national hospital in Idlib. This center is offering its services under the supervision of specialized physicians. This center is the first of its kind in Idlib after the war begun in Syria as it contains high-tech equipment that helps Thalassemia patients to bear long-term treatment.
Kheir center consists of three sections: the first section is central blood bank and it is the only one in Idlib. This bank offers safe blood to hospitals and medical centers within Idlib especially since all other blood banks. Our blood bank works 24/7 around the clock. The second section offers a complete assistance to Thalassemia patients including periodical blood transfusion in addition to medications. This center is the only one offering these medications to the patients.
Thalassemia patients need periodical blood transfusion, as they are obliged to put hypodermic needle for 12 continuous hours! Kheir Center was provided with a central lab for medical tests. This lab is equipped with high-tech equipment including Elisa equipment concerned with testing blood diseases, and "hemoglobin electrophoresis" electrical equipment used to diagnosing Thalassemia patients especially for their relatives.
The number of beneficiaries of this center have reached 1213 individuals since it was opened. Before opening this center, Thalassemia patients were forced to travel far for treatment. However, after the opening of this center, it saved travelling, its expenses and its dangers. WATAN Foundation offers medical services to all Syrian citizen equally in all the reached regions. Their services includes all community groups to offer medical assistance for needy free of charge including Thalassemia patients.