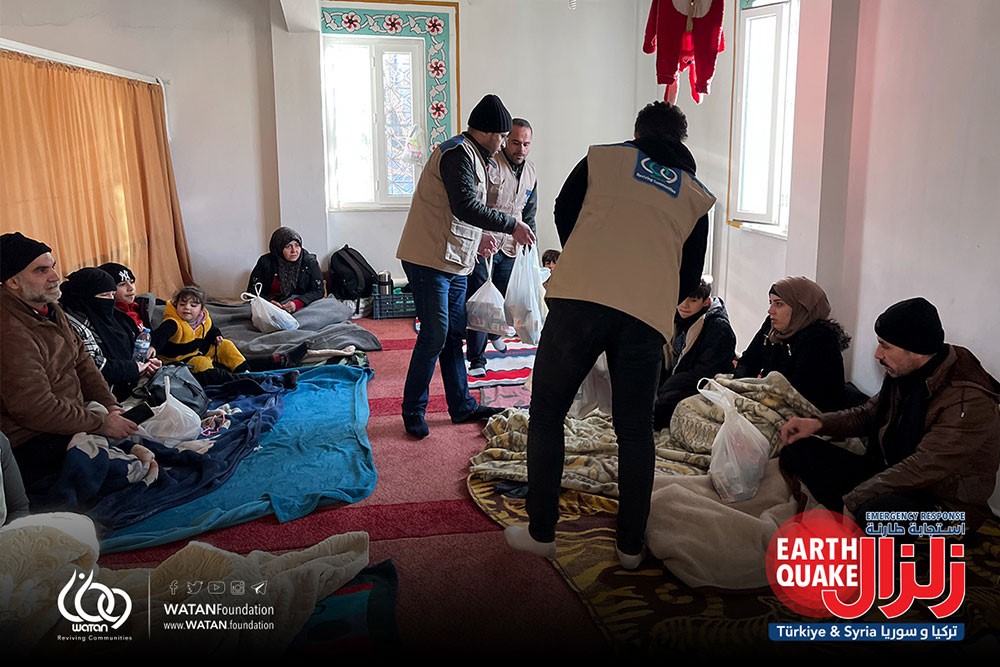 The magnitude of the catastrophe and the need for urgent aid became clear after the earthquake hit Syria and Turkey. Thousands of people were left homeless and stayed in mosques, parks, and cars, out of fear for themselves and their loved ones. Some were able to secure shelter in one of the shelters established by the Turkish government.
After the devastating earthquake that struck Turkey and Syria, Watan responded to humanitarian needs in light of the harsh climatic conditions during winter and the closure of bakeries and shops. Watan distributed ready-to-eat food baskets to families fleeing their homes to shelter centers in the city of Gaziantep, with generous support from donations received. Ready-to-eat food baskets were also distributed to rescue workers saving the lives trapped under the rubble. In addition, ready-to-eat food baskets were distributed in mosques and parks where families affected by the earthquake were gathered, with support from our partners, Humanitarian Excellence Association and Tanmeia Charity.
Food security and livelihood programs in Watan started in 2012 with a project to distribute 3,800 food baskets in Homs, Hama, Aleppo, Damascus countryside, and Deir Ezzor, which reached 22,400 beneficiaries. In the same year, Watan supported multiple bakeries and provided 210 tons of flour in Deir Ezzor in cooperation with Rahma International. Since then, Watan's focus has expanded to more sustainable results, from cultivating strategic crops, farming tools, and agricultural services to support the livestock sector. Since Watan was established, the number of beneficiaries of the food security and livelihood programs reached more than one million beneficiaries.
The Food Security and Livelihoods Program focuses not only on emergency response but also the basis of its work focuses on projects that aim to break the cycle of poverty and promote economic and social development. The aim is to provide sustainable livelihoods for the most vulnerable groups and enhance their well-being by improving living conditions and promoting the sustainable use of available resources.
Watan aims, through its programs, to enable local communities to acquire diverse skills and to help secure the resources necessary to generate income. Watan looks forward to expanding its role in assisting small businesses and business partnerships, providing vocational training and study grants, and expanding in the field of agriculture and livestock by increasing its scope and number of beneficiaries.