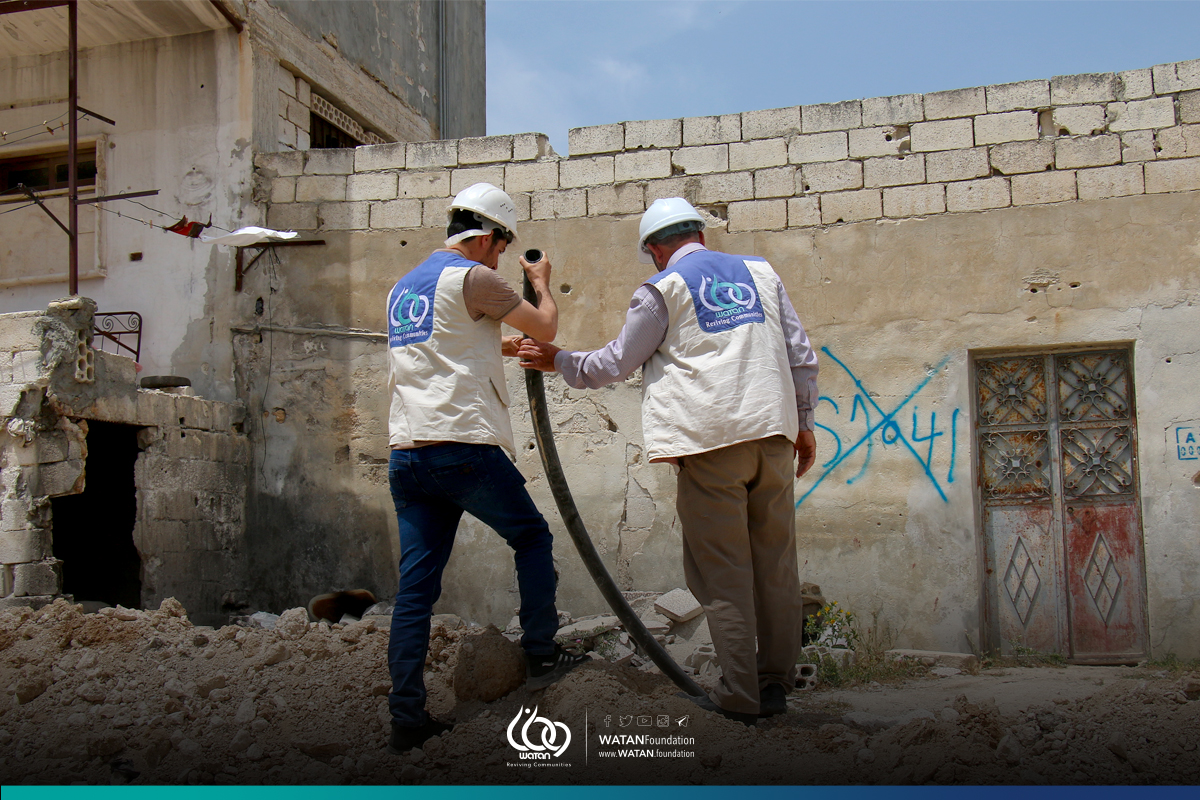 In the aftermath of a devastating earthquake that struck southern Turkey and northwestern Syria, survivors in the Jisr al-Shughour area of rural Idlib face critical challenges in accessing clean drinking water, posing a significant threat to public health. Recognizing the urgency of the situation, WATAN has prioritized water, sanitation, and hygiene as key sectors in its interventions. By implementing various activities at the facility, community, and household levels, WATAN has been able to provide essential support, including hygiene kits and waste management solutions, to families affected by the earthquake in Jisr al-Shughour City and the town of Jannoudiyah in western Idlib.
In parallel with these efforts, WATAN has launched a vital project to provide chlorinated water to over 750 Jisr al-Shughour and 640 families in Jannoudiyah, utilizing specially equipped tankers. Moreover, waste disposal and the closure of open pits are being executed as part of the project to improve the overall cleanliness and minimize the spread of diseases in these targeted areas.
Ahmed Mansour, the Water and Sanitation Program Coordinator at WATAN, highlights the ongoing rehabilitation process of water networks and elevated tanks in Jisr al-Shughour City. This initiative aims to optimize water supply and storage by ensuring the stations are powered with electricity and maintained at the highest standards of quality and efficiency. The rehabilitation efforts not only enhance the residents' quality of life and meet their essential needs but also contribute to sustainable development in the city.
Mansour emphasizes WATAN's commitment to implementing infrastructure projects of the highest quality to ensure long-term sustainability. By carefully selecting premium materials and adhering to international engineering standards during the execution phase, WATAN strives to make a lasting impact. Improvements in water supply, sanitation, and water resource management play a vital role in stimulating economic growth and significantly reducing poverty.
WATAN's primary objective is to enhance access to life-saving and sustainable water, sanitation, and hygiene services, particularly in emergency situations. By establishing robust infrastructure and providing comprehensive services, WATAN strengthens community resilience, ensuring the well-being of affected populations.
WATAN's humanitarian work plays a pivotal role in providing access to clean water and sanitation facilities for families in northern Syria who have been deeply impacted by the earthquake. Through rapid response to urgent needs and the implementation of health awareness campaigns, WATAN has positively transformed the lives of thousands of people. However, sustaining these life-saving activities poses a significant challenge due to insufficient funding. The support of generous donors, supporters, and international organizations is crucial to continue the life-saving work and make a lasting difference in the lives of those in need.
In the face of adversity, WATAN's unwavering commitment to addressing the immediate needs and long-term sustainability of water, sanitation, and hygiene services is critical. By providing crucial support and empowering affected communities, WATAN ensures that vulnerable populations have access to clean water, sanitation facilities, and hygiene practices. WATAN relies on the generosity and support of its esteemed stakeholders, partners, and global organizations to achieve these ambitious goals and maintain life-saving interventions. Together, we can make a significant impact and contribute to building a better future for.