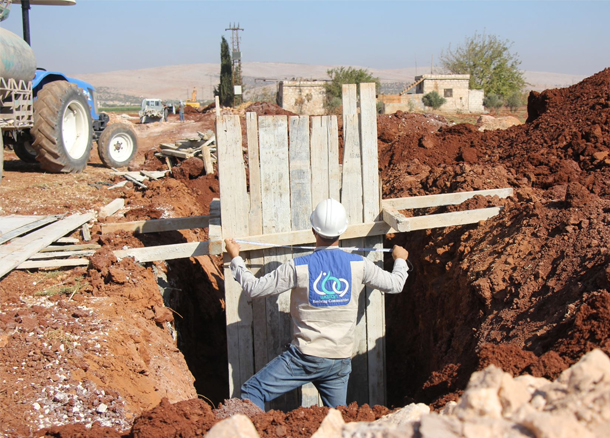 The "Supporting water and sanitation sectors and camp coordination in northwestern Syria" project started 7 months ago in partnership with the SCHF. WATAN since then has been operating water stations in each of the villages of Babka, Kafr Nasih, and Abyan Samaan in the Atareb area northwest of Aleppo while monitoring water chlorination levels, providing immediate maintenance of water lines to ensure the arrival of sterile water, and providing fuel to operate the stations. The estimated number of beneficiaries from the project is 101,000 people.
The project began in September of last year, and included the extension of water networks, the rehabilitation of pumping stations in each of Babka,  Kafr Nasih,  and Abyan Samaan, and the extension of sanitation networks for the villages of Abyan Samaan, Babaka, and Darat Azza.  The stations were supplied with 20040 liters of diesel and 236.5 kg of generator oil, 11 sets of oil filters for generators last March. The project aims to alleviate the cost burden of the disposal of polluted water and enhance personal hygiene in the targeted areas by distributing hygiene materials in two stages.
The project objectives were based on the demand for urgent need within the targeted villages, as a result of population inflation due to the conflict and relative stability in villages and lack of support for local councils to help low-income families, people with special needs, and widows. This intervention aimed to secure water services for people that need them and improve hygiene through sanitation networks, especially with the spread of COVID-19.
After this intervention, results began to appear in the villages in which the work was completed, as the problems faced because of the old sewage lines decreased and the new lines were directly connected. The new networks ensure that sterile water reaches all residents and displaced people within the villages, and thus transported tanks that used to provide water are no longer needed.