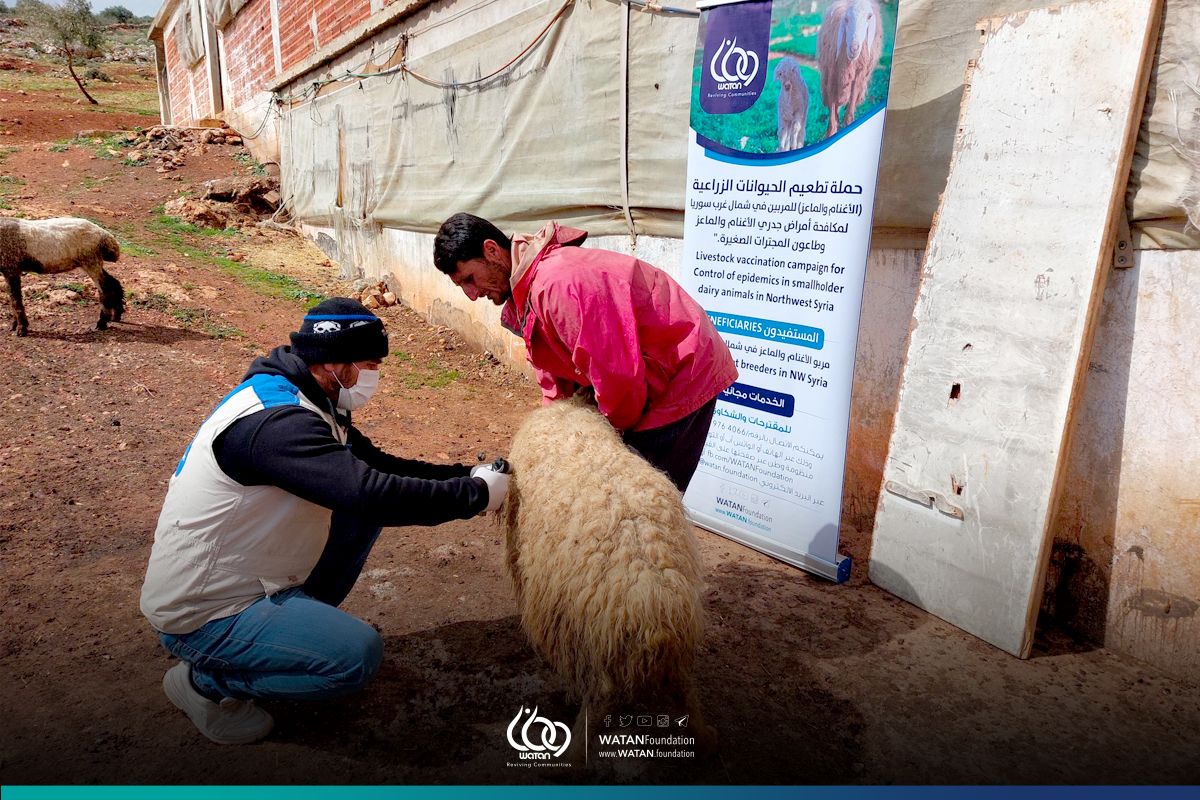 Livestock breeders in northwestern Syria are facing significant challenges, including high feed prices, financial losses, and concerns over the depletion of animal wealth due to the scarcity of pastures and basic necessities, as well as market stagnation. In addition, difficulties in securing vaccines and feed have added to their struggles. Abu Ahmad, a sheep breeder in the Armanaz area, had to sell 50 out of 200 sheep to secure the cost of medicines and feed for the remaining sheep, while Abu Naseef, another sheep breeder, highlights the impact of the loss of large areas due to Russian attacks in the eastern Idlib areas, negatively affecting animal wealth.
One of the major challenges faced by livestock breeders is the outbreak of diseases, such as the highly contagious small ruminant plague and smallpox, which cause severe economic losses due to the death of many animals if not vaccinated. Veterinarian Mahmoud Al-Bakour emphasizes the need for vaccination to prevent the spread of these diseases.
To support the livestock sector and preserve animal wealth, WATAN has launched a vaccination campaign in northwestern Syria. The project aims to vaccinate all sheep herds in targeted areas against sheep pox and small ruminant plague. Dr. Khaled Al-Khalifah, a veterinarian in one of the projects of the food security and livelihood sector in WATAN, highlights the importance of the project in supporting sheep and goat breeders who rely on animal wealth as their main source of income. The project also includes medical vaccinations and support of veterinary treatments, as well as distribution of supported sheep with special feed vouchers and mobile veterinary clinics providing free treatments and artificial insemination for cows and reproductive treatments for sheep.
This project complements previous projects implemented by Watan since 2015, which have targeted the animal wealth sector and provided services such as vaccination against viral diseases, mobile veterinary clinics, and support for the resilience of sheep breeders who have lost this profession due to current conditions.
The Watan program's vaccination campaign will reach 350 villages in targeted areas, benefiting an average of 7,000 sheep and goat breeders in northwestern Syria. This initiative is crucial for the preservation of animal wealth and the livelihoods of thousands of families in the region.
In conclusion, for the food security and livelihood sector in WATAN, the vaccination campaign is a vital step towards supporting the livestock sector and preserving animal wealth in northwestern Syria. With the support of donors and international organizations, initiatives like this can help alleviate the challenges faced by livestock breeders and contribute to food security and livelihoods in the region.