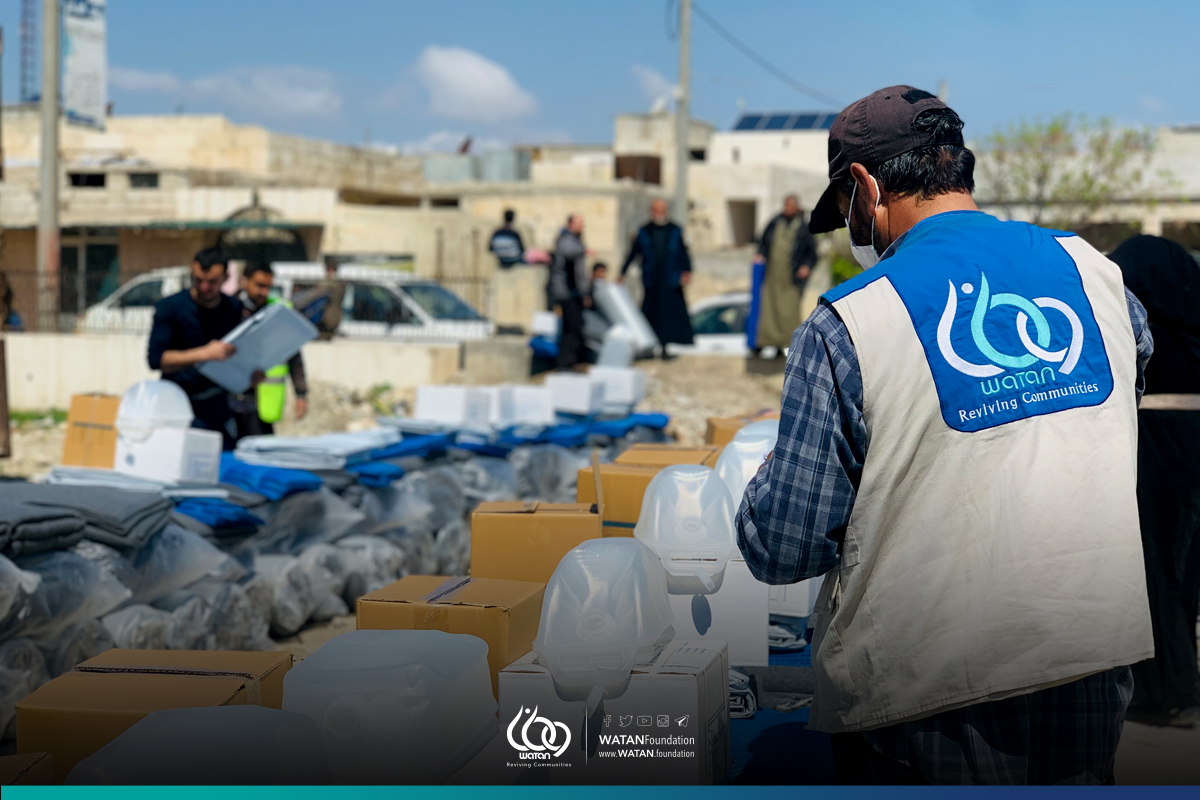 The aftermath of the recent earthquake in northwest Syria has left countless families grappling with helplessness and despair as they mourn the loss of their homes and loved ones. However, WATAN, a dedicated humanitarian organization, has been unwavering in its commitment to providing support to those affected by this devastating disaster. With a team of dedicated volunteers and a rapid response network, WATAN has been at the forefront of providing essential aid and assistance to the affected communities since the very first day of the humanitarian crisis.
As the earthquake struck, WATAN's field team leaders, such as Mohammed Qutini, provided immediate support in shelters and towns where affected families sought refuge. Understanding the importance of calming the locals who were gripped by fear and anxiety, WATAN's volunteers lent a listening ear to their stories, expressing empathy, and providing essential supplies such as blankets and bedding to protect them from the harsh weather conditions.
After two months, WATAN was able to ascertain the extent of the affected population in the rural areas of Idlib and Aleppo. Swift action was taken, and WATAN's teams delivered aid, including non-food items, to those in need. To date, WATAN has distributed 11,180 emergency baskets in the affected areas in northwest Syria until April 11th, and 6,296 emergency baskets until February 28th. In addition, WATAN has provided non-food items and fuel to provide warmth for the displaced population in shelters in Aleppo and Idlib countryside since the outset of their earthquake response efforts on February 6th.
WATAN's commitment to expanding its coverage and developing a rapid response network in hard-to-reach areas has been commendable. As one of the first organizations to mobilize resources during the initial moments of the earthquake, WATAN's swift and dedicated response has profoundly impacted the affected families, providing them with essential assistance and support to ensure their safety and well-being.
According to Mohammed Qutini, one of WATAN's field team leaders, "We understood the importance of calming the locals who were reeling from the event's impact, as fear had gripped their hearts. We made it a point to be there with them, listening to their stories and expressing our empathy, hoping that it would help assuage their anxieties."
As WATAN continues its humanitarian efforts to support the earthquake victims in northwest Syria, the critical significance of timely relief and urgent assistance during times of crisis has become evident. WATAN urges all stakeholders in the humanitarian community, including Chairmen of Boards & Directors, supporters, donors, and international and global organizations, to join hands and collaborate in providing essential aid and support to those affected by this devastating earthquake. Your support and partnership will make a significant difference in the lives of those in need.
In conclusion, WATAN's unwavering commitment to providing aid and assistance to those affected by the devastating earthquake in northwest Syria has been commendable. Through their rapid response efforts, dedication to service, and compassionate approach, WATAN has made a tangible impact on the lives of the affected families, providing them with essential relief and support. As we continue to rebuild lives and communities, WATAN's efforts serve as a beacon of hope.