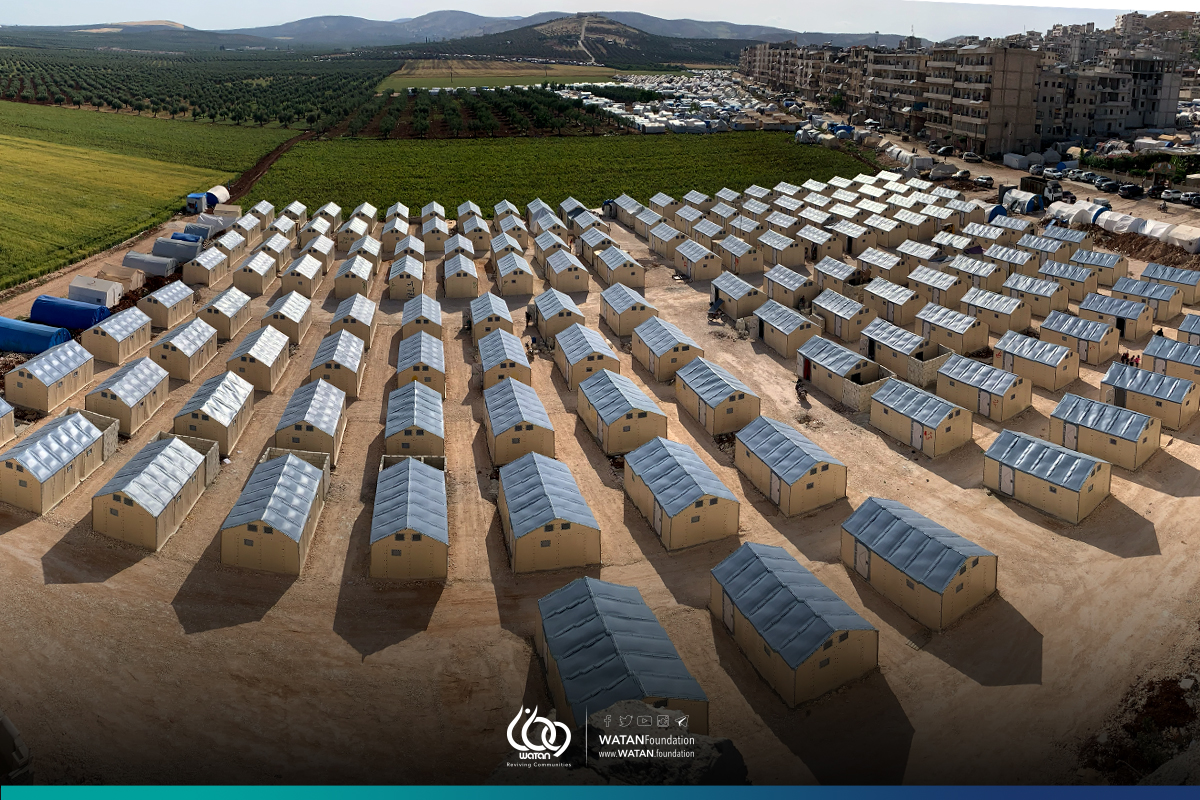 On February 6th, a devastating earthquake hit northwestern Syria, leaving thousands of families without homes, food, or access to clean water. As families waited for immediate aid to save their lives and those of their infants, relief organizations mobilized to provide support.
WATAN quickly responded to the disaster by sending field teams to the areas that witnessed great destruction. Khaled Ateeq, a member of WATAN's field teams, explains that their priority is to secure alternative shelter for the affected people, particularly those whose homes were completely destroyed and those who can no longer return to their homes due to partial damage.
To address this urgent need, WATAN partnered with the United Nations High Commissioner for Refugees (UNHCR) to build prefabricated housing units in camps and shelters spread throughout the countryside of Aleppo and Idlib. These units are made of compressed fibers that are insulated and designed to withstand harsh weather conditions, including storms and heavy rains. Additionally, the floors of the units are isolated by sanding and casting a concrete frame, ensuring a smooth, polished surface and preventing insects and reptiles from entering.
Despite challenges, including a weak humanitarian response and the families' need for all kinds of assistance, WATAN continues to mobilize its emergency response teams to secure necessary supplies such as shelter and water. In fact, the positive impact of WATAN's efforts on the ground was recently observed by a delegation from the UNHCR and the Office for the Coordination of Humanitarian Assistance (OCHA) during their visit to the temporary shelters established by WATAN.
WATAN's response to the earthquake in northwestern Syria is a critical humanitarian effort that requires the support of donors and supporters. Together, we can help rebuild and restore hope for a better future for those affected by this disaster.
In an interview with Khaled Ateeq, he emphasizes the urgent need for continued support to address the ongoing challenges faced by those affected by the earthquake. He notes that the need for assistance extends beyond shelter, and includes access to basic necessities such as food, water, and medical care. Ateeq also underscores the importance of partnerships with organizations like UNHCR to ensure a coordinated and effective response.
WATAN's efforts demonstrate the impact that humanitarian organizations can have on the lives of those in need. By supporting their work, we can make a difference in the lives of families affected by disasters and help create a better future for all.