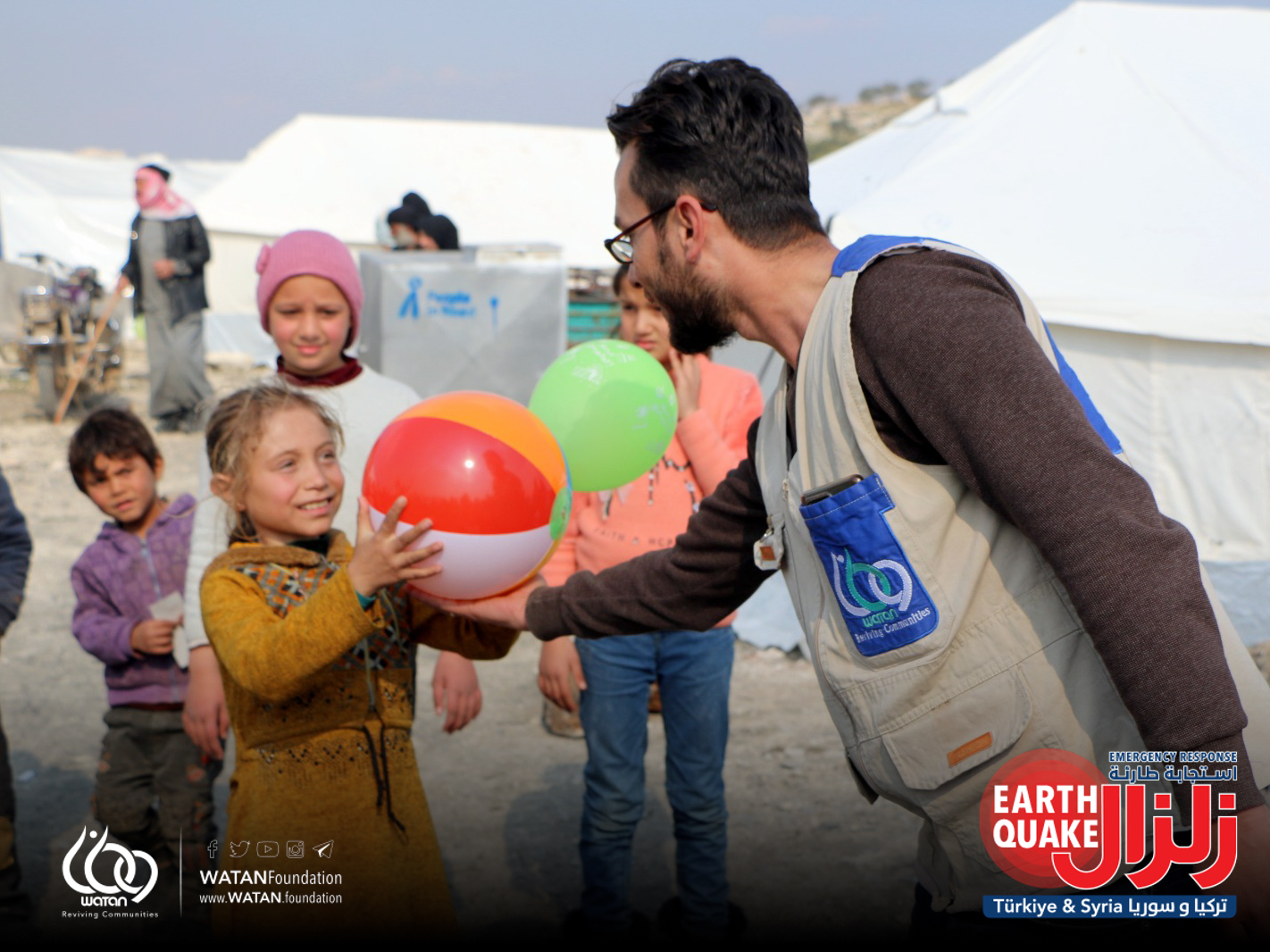 The United Nations Children's Fund (UNICEF) has warned that millions of children are in urgent need of humanitarian support.
More than two weeks after the devastating earthquake that struck Turkey and Syria, killing tens of thousands, the impact on children and families in the region is disastrous, leaving hundreds of thousands in miserable conditions.
Many families lost their homes and are now living in temporary shelters, often in very cold conditions as snow and rain exacerbate their suffering. The earthquake also caused widespread damage to schools and other infrastructure.
Dreams disappeared and the hour of truth came hit when children opened their eyes to the biggest catastrophe of the century. These children and their families have experienced the torment of terror and fear, fleeing their homes, and resorting to shelters, many of which were temporarily established by Watan in northwest Syria.
Psychiatry professors have observed that young children are particularly vulnerable in times of disaster, with the psychological impact on children far outweighing that of adults. It comes down to their incomplete development and ways of thinking.
The Watan's protection programme team worked in cooperation with the Education Programme team to try and address the problem. They rushed to implement psychosocial support activities, to the 796 children from the arrivals to the temporary centres set up in Atarib, Killi, Al-Tawamah, and Maarat Misrin.
Firas, the coordinator of the Education programme, said that seeing the situation of children terrified at the moment of the disaster prompted us to hasten to provide psychological relief. Often before physical relief or simultaneously.
He listens to the children, gives them the opportunity to express their feelings, to dismantle each problem separately and help them by integrating them with psychosocial support activities.
"The psychological condition of the parents is gradually improving with seeing their children happy and joyful with the activities that have contributed greatly significantly improve their condition." Firas added.
Watan's work:
The Protection programme in the Watan works to secure the safety, dignity and rights of people, aiming to reduce exposure to further harm and allows fair and impartial assistance without discrimination or fear of physical or psychological harm.
They also support for the issues of children and women psychologically affected by sexual violence or mental illnesses.
It's first project of the Protection Programme in 2012 provided psychological treatment for refugee children in Tripoli, Lebanon, in partnership with the United States Agency for International Development through the Office of Transition Initiatives (OTI).
By 2013, they had reached 3,000 orphans. Ten years on, the number of beneficiaries from the protection program in Watan reached more than 153,000 beneficiaries.
The Education programme also facilitates acquiring knowledge, and skills, both within formal and informal frameworks.
Fully aware that building the psychosocial capacities of Syrian children is of great vital importance, the programme also works to support a number of schools in Syria and Turkey providing psychological support for children in schools through specialists.
It also runs from secondary school until their graduation from university, providing activities for them such as student seminars and sharing ways to achieve scholarship opportunities.
By 2023, the programme had reached 171,000 beneficiaries.