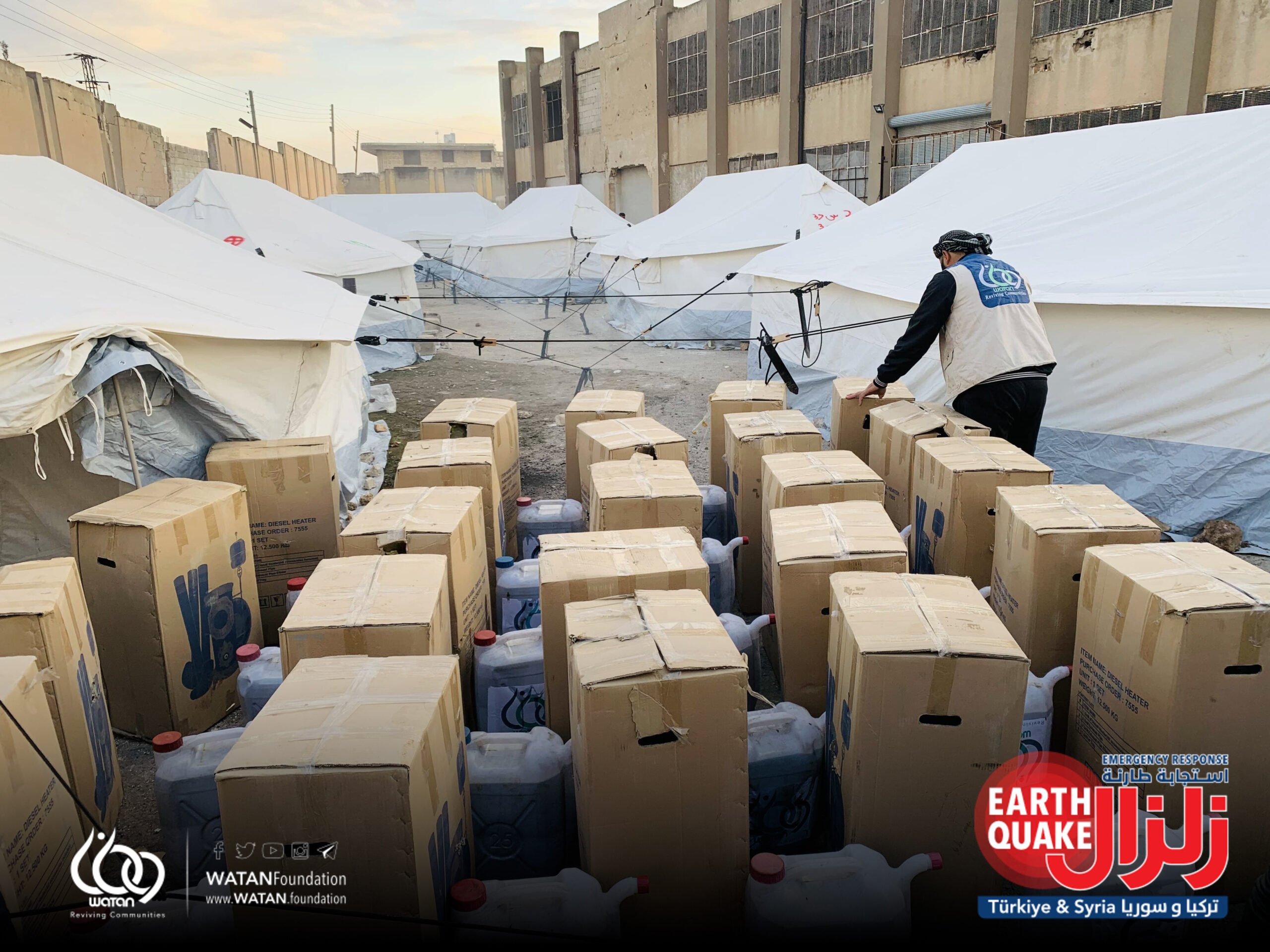 The people in northwest Syria have endured long, bitter years full of pain and calamities. This time the devastating earthquake that struck was one which they had not lived through or imagined before.
Mourning and silence blanketed the city of Atarib in the western countryside of Aleppo, after the rescue operations looking for earthquake survivors from under the city's rubble ended. Dozens of families have left the city to town or camps nearby which were less affected by the disaster.
Some families took refuge in the 'Northern' school in Atarib after it was turned into a centre that was established by Watan's field teams  in the shelter and non-food items programme very quickly after the first few days of the earthquake.
Mahmoud, a member of the Watan team, told us that a large number of people chose to stay back in the city, and took refuge in the temporary centres, for fear of being far from their original homes allowing them to be looted.
However, the conditions are harsh and difficult: "Hundreds live in that canvas tent that does not keep them warm, does not protect them from the evil of the cold, and does not give them privacy.
But it is our only safer shelter at the present time." He added.
"I lost everything," says Faris Ahmed Abdu, a 25-year-old father of two who survived the earthquake.
Faris lost his home, which he had built not too long ago, and the motorcycle repair shop from which he earned a living. Now, Faris, his wife, their two sons, and his sick mother have had to go back to living in a small tent, without electricity or sewage.
A speedy response:
Watan's field teams responded urgently to respond to shelter needs by distributing emergency kits, which are essential to alleviating the suffering of those affected by the earthquake in rural Idlib and Aleppo.
"When we arrived at the work sites, we saw faces that could not explain their condition, as the disaster was psychologically fatal even for the survivors.". Mustafa, a distribution team leader in the shelter and non-food items programme speaks of the mental impact that survivors are now enduring in the aftermath of the earthquake.
His team have needed to carefully navigate conversations with those in the shelter: "we cannot ask people who was lost or how."
Mustafa continues, saying: "Our teams are working hard to relieve them by hearing their stories and securing their basic supplies of food. 3382 shelter kits have been distributed so far."
With the onset of the disaster, Watan also launched a campaign to collect donations through its official website and social media platforms, aiming to provide urgent support in all basic services such as safe housing, warmth and food for the affected families within the regions of northern Syria and Turkey.
Thanks to the great confidence and quick response from the donors, Watan's field teams were able to secure winter heaters and fuel within the temporary housing in the city of Atarib with their fuel.
Watan teams are continuing around the clock to respond in all regions of north and northwest Syria affected by the earthquake.
The Shelter and Non-Food Items (NFI) program in Watan aims to provide safe shelter for internally displaced persons by providing healthy, private, and dignified living conditions for groups of people and families. This can include camps, temporary or even permanent housing. Other components of the program include the distribution of non-food items of daily life such as seasonal clothing, cooking equipment, shelter kits and heaters.