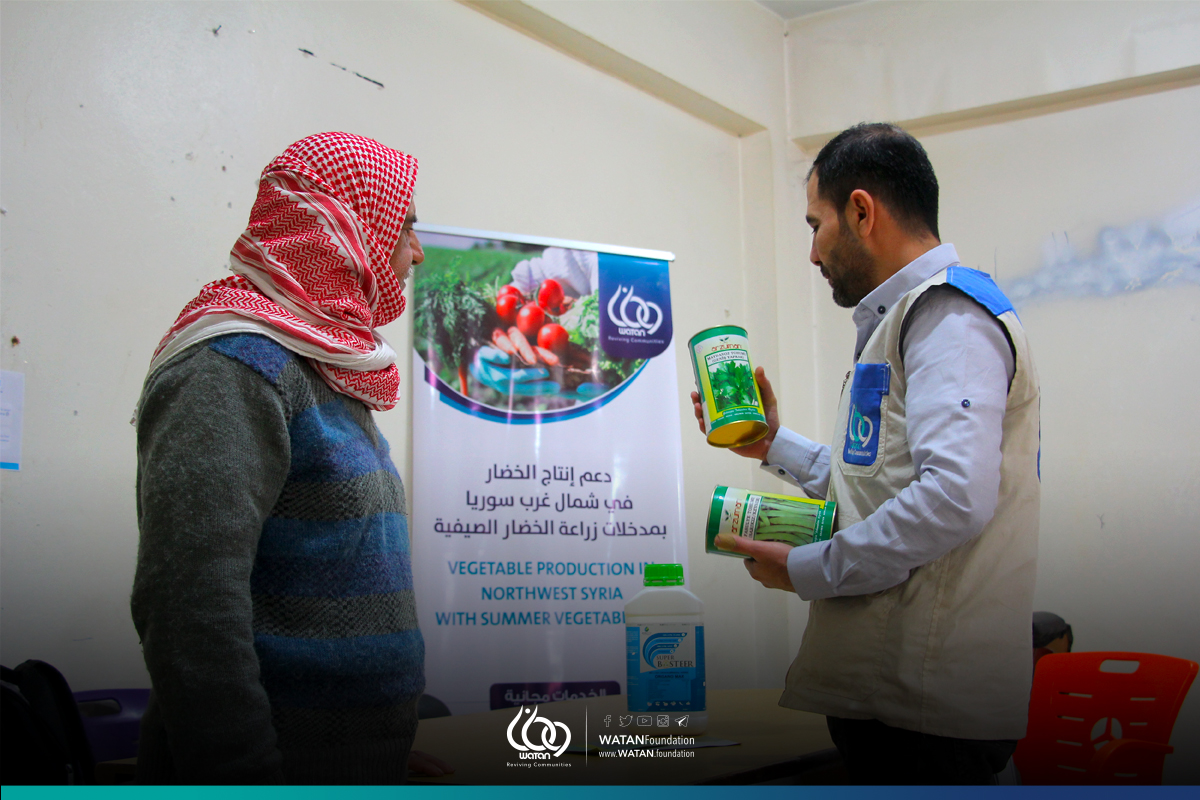 The agricultural sector in northwestern Syria has faced significant challenges, including water scarcity, land loss, and high costs of farming supplies. However, amidst these adversities, various organizations have taken the initiative to support farmers and ensure the sustainability of agricultural production. WATAN, a humanitarian organization committed to making a positive impact, has implemented a project that provides grants to farmers and emphasizes the importance of technical support and agricultural extension services. In this article, we explore WATAN's efforts to revive the agricultural sector, support local communities, and foster self-sufficiency, showcasing the organization's significant contributions to the humanitarian landscape in northwestern Syria.
WATAN's agricultural program coordinator, Abdul Hai Sarmini, highlights the pressing need to reconnect farmers with their work. Recognizing the financial burden faced by farmers, WATAN, in collaboration with the Food and Agriculture Organization, launched a project to distribute agricultural inputs. The project aims to empower farmers and enhance their skills through the provision of organic fertilizers and summer vegetable seeds. Additionally, specialized agricultural engineers provide field follow-ups and training courses, ensuring farmers have access to the latest scientific knowledge for optimal vegetable production.
WATAN's project extends its reach to several districts within Idlib and Aleppo, including Akhtarin, Al-Bab, Azaz, Souran, Mare', Ma'arat Misrin, Binnish, Ariha, Armanaz, and Jisr Al-Shughour. By strategically selecting these areas, WATAN maximizes its impact and supports a large number of beneficiaries. The project has successfully reached over 1,000 farmers, providing them with the necessary resources to cultivate their lands and secure sustainable incomes.
By investing in agriculture, WATAN aims to promote self-sufficiency in vegetable production, reduce dependency on external sources, and ensure food security for communities in northwestern Syria. The project addresses the immediate needs of farmers and contributes to these communities' long-term resilience. Through improved agricultural practices, access to essential resources, and technical guidance, WATAN's initiatives create a ripple effect that positively impacts the entire region.
WATAN has emerged as a beacon of hope for vulnerable communities in northwestern Syria. The organization's unwavering dedication to ensuring food security and protecting livelihoods underscores the crucial role of humanitarian organizations in meeting the urgent needs of conflict-affected areas. By providing ongoing support and collaboration, WATAN continues to impact the lives of farmers and their communities, nurturing resilience and fostering sustainable development.
WATAN's vision goes beyond immediate assistance. The organization aims to expand its capacity in the field of agriculture and livestock, increasing the scope of its programs and benefiting even more individuals. WATAN creates a foundation for long-term sustainability by empowering local communities with diverse skills. Through partnerships with governmental and donor agencies, WATAN remains committed to implementing projects that promote self-sufficiency and support civil society in northwestern Syria.
WATAN's agricultural projects in northwestern Syria demonstrate the organization's commitment to transforming lives and fostering resilience. By providing farmers with essential resources, technical expertise, and training, WATAN empowers communities and cultivates self-sufficiency in vegetable production. The positive impact of these initiatives on livelihoods, food security, and overall community well-being is undeniable.