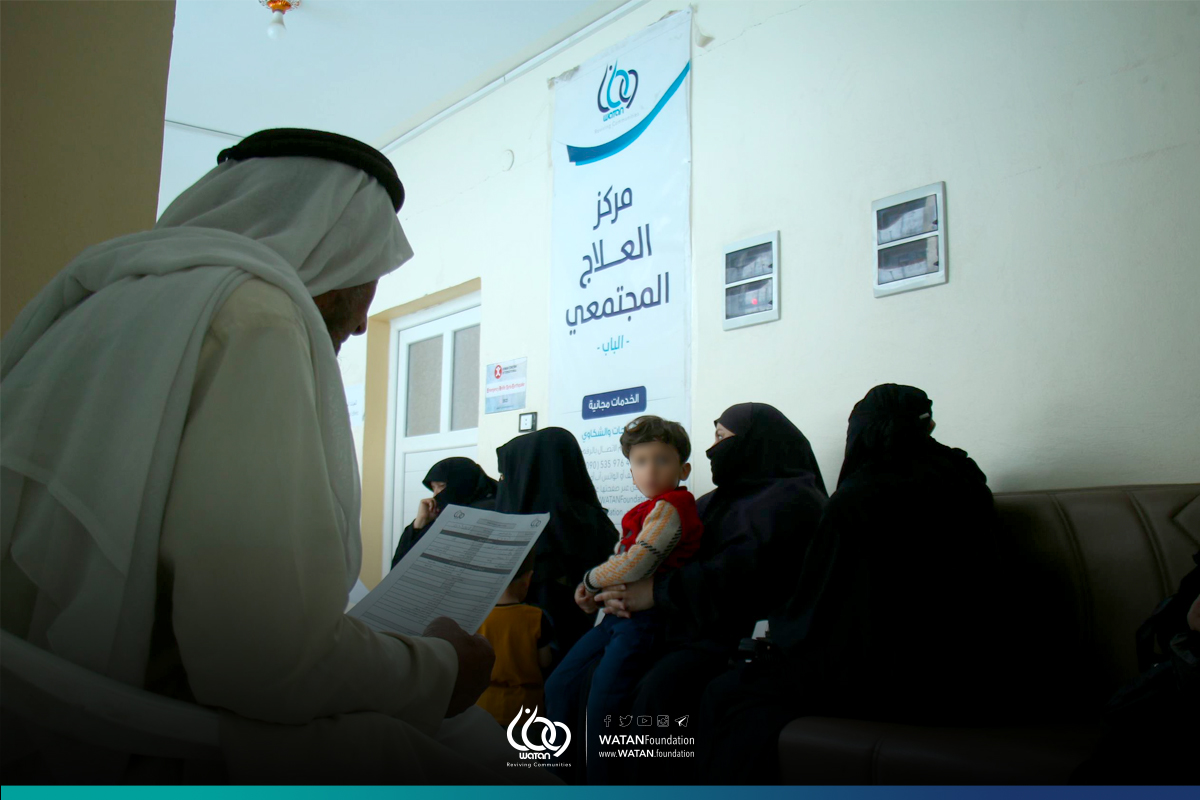 In the aftermath of forced displacement and the devastating earthquake, the city of Al-Bab in Eastern Aleppo witnessed a significant increase in population, exacerbating the already deteriorating healthcare services. Faced with this dire situation, humanitarian organizations intensified their efforts to ensure access to healthcare for affected families. Abdullah, a resident of Al-Bab, expressed the challenges they faced due to the absence of a healthcare center, forcing them to seek medical advice from pharmacies that lacked proper diagnostic capabilities.
Responding to this urgent need, WATAN, in partnership with Human Concern International, established a healthcare center to provide vital medical and diagnostic services to the city's residents and those affected by the earthquake.
Dr. Ola Ibrahim, one of the project supervisors, highlights that the center began its operations on February 15, 2023. It offers a range of healthcare services, including general clinics, mobile clinics, emergency care, free medications, and psychological support. Its primary focus is on aiding the earthquake survivors from the devastating events that took place on February 6, 2023.
The mobile clinics reach out to affected individuals within the scattered shelters in the Eastern Aleppo countryside, providing medical care, free medication, and social and psychological support. On average, the center benefits approximately 1,500 individuals on a monthly basis.
WATAN's commitment to providing reliable and accessible healthcare in Northwest Syria goes beyond responding to the earthquake crisis. In 2017, the organization established two diagnostic centers and conducted specialized training for staff within Syria to enhance their expertise. These initiatives aim to address the continuous challenges faced in the healthcare sector and ensure that people have access to essential medical services.Abdullah expressed his satisfaction with the healthcare services provided, expressing gratitude to all those involved in establishing and supporting these centers. The centers alleviated his financial burden as he was unable to afford private clinic fees for medical consultations.
Earlier, WATAN operated the same center to treat COVID-19 patients in 2022, benefiting around 500 individuals monthly. The services provided included essential medical supplies such as oxygen and other necessary resources for COVID-19 patients in the Aleppo countryside.
WATAN's healthcare program aims to improve the health of local communities and enhance their ability to recover from the impacts of war and displacement. The program focuses on providing healthcare to children, women, the elderly, persons with disabilities, individuals with chronic diseases, and other vulnerable groups.WATAN's healthcare program in Syria is an integral part of comprehensive efforts to improve the humanitarian situation in the country. Sustained support from donors, supporters, and international organizations is crucial to ensure the continuous provision of necessary healthcare services to local communities in Northern Syria. Together, we can transform lives and bring hope to those in need.