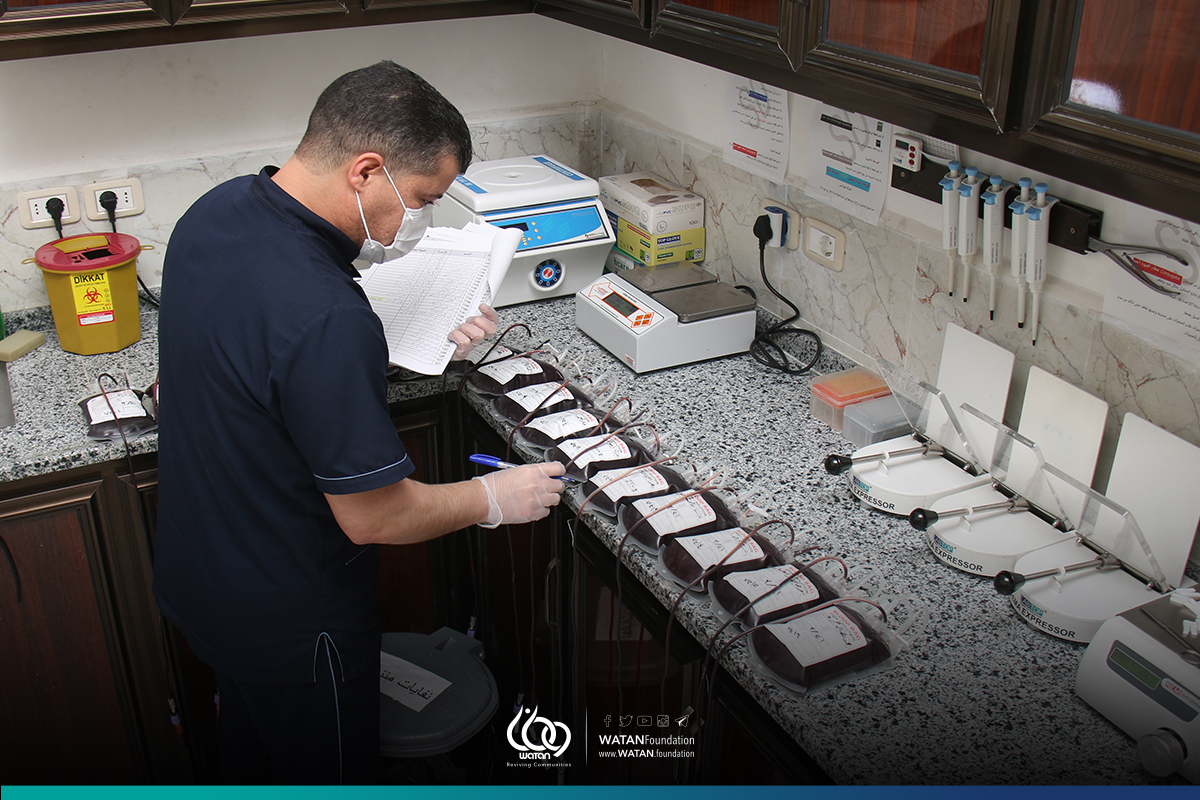 Northwestern Syria was hit by a devastating earthquake on February 6, 2023, leaving many injured and in urgent need of blood transfusions during surgical procedures. The Watan Foundation, which operates several blood banks and health centers in the region, immediately launched an appeal for blood donations through WhatsApp groups and local mosques to meet the overwhelming demand for blood bags.
Mohammed Al-Qash, the director of Watan 3 center in Idlib, explained, "The need was very great in the first moments, we exhausted all resources and employed all the staff, including those on duty and off duty, such as laboratory technicians and nurses, to meet the needs of hospitals in those terrifying hours." He also highlighted the crucial role of all society members who donated blood to their injured brothers and sisters.
Dr. Bana Shqayefi, the director of Watan 4 center in Salqin, emphasized the urgent need for blood units of all groups in the city, which was severely impacted by the earthquake. "The blood bank is located in the same building as the Al-Amal Hospital, which was filled with patients during the first moments of the disaster, so all staff were employed to start withdrawing blood and perform immediate safety tests to ensure the blood's safety before giving it to the injured," she explained.
Meanwhile, Dr. Hiba Shalala, the director of Watan 2 center in Maraa, reported a large number of people coming to the center to donate blood and save lives. "We mobilized our staff within the center. Some of them worked on collecting blood from donors, while others conducted safety tests to immediately extract blood for the injured in hospitals," she said.
In total, the Watan Foundation collected 1802 blood units and distributed 2047 blood units as of March 10, 2023. The organization also mobilized all staff in hospitals and medical centers affiliated with it in northwest Syria, utilizing all available equipment and supplies to save the lives of the injured.
To further support the ongoing response efforts, Watan launched a campaign to collect donations through its official website and social media platforms. The funds raised will help secure medical supplies and equipment to ensure the continuity of high-quality services.
Watan's dedication to providing accessible and reliable healthcare in northwest Syria extends beyond the earthquake response. In 2017, the foundation established two diagnostic centers and provided specialized training to staff within Syria to increase their experience. These initiatives aim to address the ongoing challenges in the healthcare sector and ensure that people have access to essential medical services.
As the Watan Foundation continues to expand its reach and increase beneficiaries, it aims to implement innovative emergency response plans that streamline the response procedures and alleviate the burden on healthcare systems during crises. For supporters, donors, and international organizations, supporting Watan's mission is a crucial step towards achieving greater healthcare equity and improving the lives of people in northwest Syria.