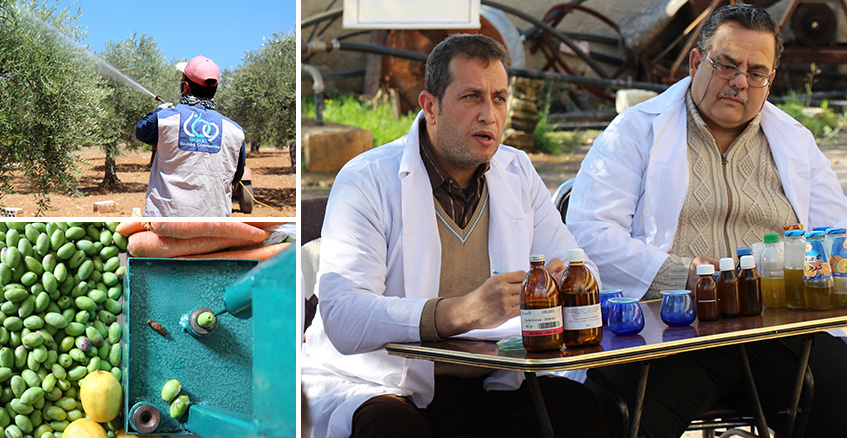 Oil pressers in Armanaz of Idlib countryside is considered one of the most important pillars of economy. Ninety percent of the citizens depends on oil pressers and olive oil to earn their living.
WATAN Foundation supported these pressers within Syrian golden liquid project. These projects aimed at requalification of oil pressers through offering materials and tools helping to have high quality olive oil. WATAN Foundation introduced white baskets to transfer olive from beneficiaries' lands to the pressers instead of using gunny?, which affect olives safety. The unhealthy way of dealing with olives affects oleic acid thus the oil quality.
Twenty peoples were trained to provide pressers with testing lab bags to be used in chemical tests done by "Technical officials". Those tests are done to ensure the quality of oil. The pressers also contains stainless steel tanks for every presser with the capacity of 2000 liter to store oil extracted, fire extinguishers, 200 amber batteries and technical tools.
The beneficiaries of training on managing olive crops have reached 500 farmers in Armanaz, Biatis, El- Sheikh bader, El-Shamat, and Khusara. The project also train and rehabilitate ten trainers on training to be future trainers on the ways of testing oil.
The Foundation also gave training courses on marketing olives for five members of the marketing committee in Rahma association affiliate to WATAN Foundation.
By the beginning of 2019, WATAN Foundation seeks to expand its services to reach 3000 farmer and 500 tree. They aim at covering olive sector to include Idlib and Aleppo countryside to regain productive strength of oil and olives of Syrian people.