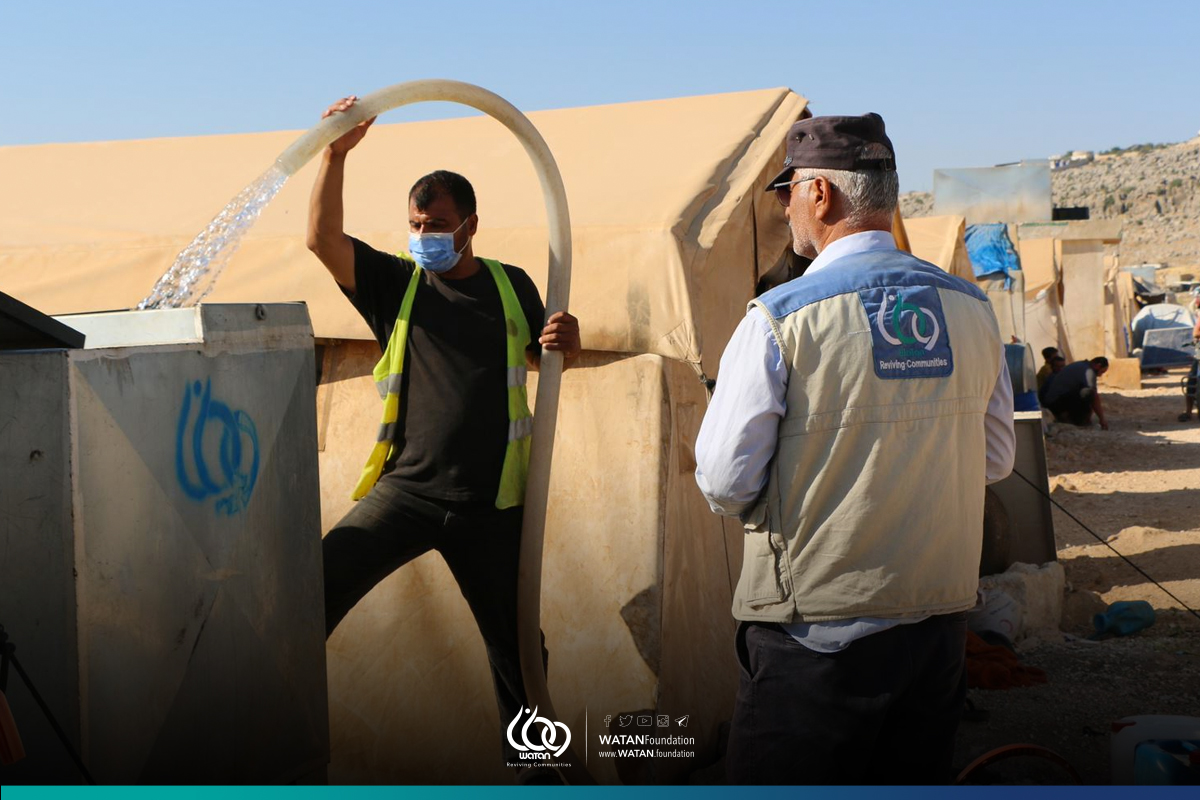 In light of the deteriorating health situation, a major project was launched aiming to decrease the spread of diseases by providing means that contribute to cleaner camps, with the aim of alleviating the burdens of the displaced. The main planned services are supplying sterilised water through tanks, transfer of solid waste, withdrawal of technical pits, building and maintaining cleanliness of bathroom blocks that accommodate people with special needs. WATAN field teams are distributing personal hygiene baskets and conducting periodic health awareness campaigns as part of the project. The number of beneficiaries of this project reached 46056 individuals (7928 families).
It is noteworthy that the project, since its renewal on 1st of March until the end of June has continued supplying water, the removal of solid waste, the withdrawal of technical pits, within the time period that was approved to extend the work of the activities. The health awareness activities continued, as the number of beneficiaries during the month of April reached 1187 direct beneficiaries and 5341 beneficiaries indirectly through 128 sessions.The project is being implemented in the following camps:  Apamia, Al-Baraka, Saed, Shuhada Aljanoub, AlEis, Al-Burj, Al-Yamamah, Al-Saleem, Jabal Al-Hoss, Ajyal, Al-Abyad Alqadeem, AlAbyad Aljadeed, Najma, Wadi Al-Ain, Tajamou Sahara, Al-Musa, Sher Maghar, Al-Maqlaa, Al-Saqia, Al-Youssef, and Nahnou Maan in the areas of Al-Dana, Kafr Lusin, Babska, Sarmada, Batbo, Hazano, Kafr Deryan Termanin, and Burj Al-Nimra.
The project decreases the financial burden on families with low income. In addition, as sewage is removed and sterilised water is provided, it reduces epidemics and diseases in camps, providing for a safe, healthy and stable environment. The project is also working on establishing a sewage network that can accommodate a larger number of beneficiaries.