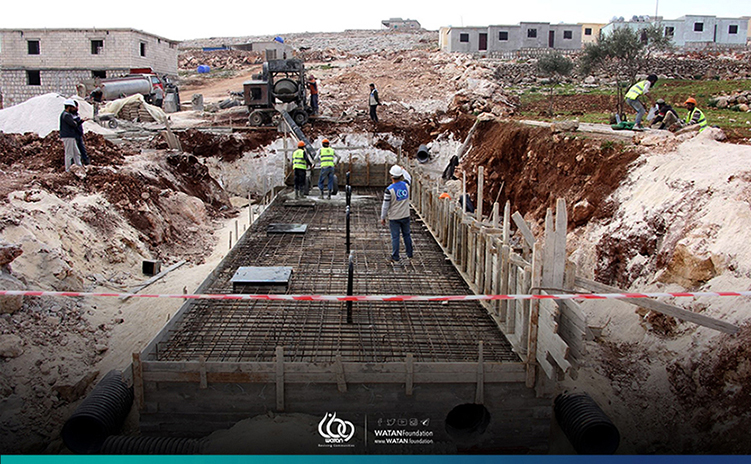 In hundreds of camps in north-western Syria the health situation is dire, and there has become an urgent need to improve hygiene.
A large-scale project was launched to address this important issue and promote personal hygiene. This was launched in the following camps: Quneitrat, Badalha, Noor Aleppo, Al-Ghufran, Al-Atlal Termanin, Al-Fadl Termanin, Al-Salam Burj Al-Nimra, Karakat, Hass Kawkab, Abyadh.
Planned services included:
1-  Supplying sterilised water through tanks.
2-  Removal of solid waste
3-  Withdrawal of technical fees.
4-  Installing solar energy systems.
5-  Building sewage networks.
6-  Building water networks, including building a high tank in Badalha camp.
7-  Distribution of hygiene baskets.
By the beginning of March this year, all the original planned services were completed and since February 7 camps have been added to the project. Since then, services were provided to them including supplying water, waste removal and emptying septic tanks.
Water networks were built in Aleppo, Karakat and Quneitra and continue to be built in the Hass camp. In the Badalha camp solar energy systems were installed as well as large water tanks. Improvement of the sewage situation was completed in the following camps: Noor Aleppo, Karakat, Hass, Quneitrat, Badalha and Ahl al-Nakhweh. 3,935 hygiene baskets were distributed across the camps.
The number of beneficiaries of these services reached 23,193 individuals – 4064 families.
These activities have improved the hygiene issues that were present and eliminated the flow of water outside on the streets due to domestic uses. They have also taken advantage of wastewater to irrigate the neighbouring agricultural lands.
Furthermore, the camps' infrastructure has been improved through the maintenance and restoration works. This includes the construction of bathroom blocks, sewage system, and the improvement of roads. By paving the roads this allows ease of movement of support to beneficiaries without obstacles. The sewage systems have been built a way such that they can be expanded in the future to accommodate a larger number of beneficiaries.