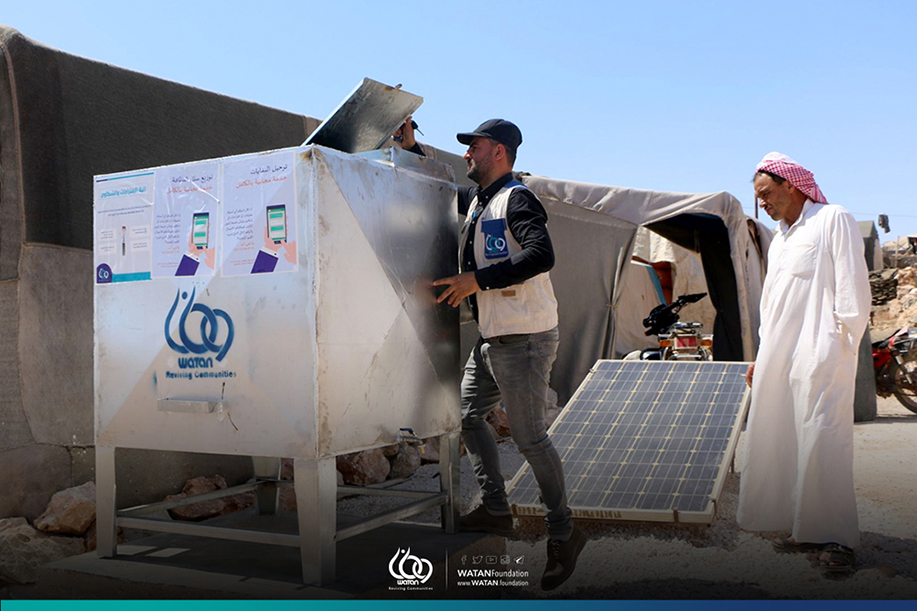 The deteriorating health situation called for a major project to be launched based on enhancing the issue of personal hygiene, with the aim of alleviating the burdens of the displaced in the camps:
Apamia, Al-Baraka, Saed, Martyrs of the South, Al-Eis, Al-Burj, Al-Yamamah, Al-Saleem, Jabal Al-Hoss, Ajyal, Old Al-Abyad, New White, Najma, Wadi Al-Ain, Gathering of Sahara, Al-Musa, Sher Maghar, Al-Maqlaa, Al-Saqia, Al-Youssef, and We Are Together
All of which are in the areas of Al-Dana, Kafr Lusin, Babska, Sarmada, Batbo, Hazano, Kafr Deryan Termanin and Burj Al-Nimra.
These are the following planned services:
Supplying sterilized water
Transferring solid waste
Withdrawal of septic tanks
Distributing personal hygiene booster baskets
Periodic health awareness campaigns
Distribution of garbage containers
Building blocks of regular bathrooms for people with special needs
Contracting workers to clean the bathroom blocks on a daily basis
Implementation of sewage lines, with fermentation pits to convert water into irrigation water
The project was launched at the beginning of 2021, to complete all the activities aforementioned. With the subsequent completion, a new project was launched as a follow up on the implementation of the remaining project activities (2022):
The extension of the contracts of each of the suppliers, workers of the bathroom blocks and the supervisors until early November, pending the preparation of new tenders to work after that.
Offering new tenders and the workers of the bathroom blocks will select those wanted for work.
Continuing water supply, solid waste transfer and septic tank services and work of the health awareness activity.
The number of beneficiaries until the end of last March reached 36,877 individuals, a total of 7,925 families. The spread of epidemics has been limited by promoting the issue of personal hygiene, and eliminating the flow of water outside of domestic use to the streets, which leads to the formation of swamps containing a lot of dirt and diseases. Furthermore, their financial burden has been reduced as the project takes advantage of the dirty water to irrigate the neighboring agricultural lands.
These services are expected to contribute to:
Enhancing personal hygiene by providing sterilized water, removing waste and reducing the spread of diseases and epidemics.
Supporting families with limited income, widows and people with special needs.
Supporting the camps' infrastructure.
Establishing long-term solutions through the sewage network that can be used in the future.
Providing a safe, healthy and stable environment.