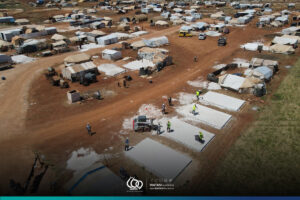 Shelter is of most important, basic needs and many displaced Syrians are struggling without sufficient, secure shelter.
In an effort to alleviate the suffering of camp residents in northern Syria; WATAN, in cooperation with the UNHCR, distributes shelter baskets and tents in the governorates of Aleppo and Idlib. 1000 tents were installed, in addition to the inspection of 8000 tents of them. It also seeks to improve tent sites by implementing the following activities:
Pavement of roads extending 15 km.
Implementation of sewage networks extending 15 km.
Installing 150 lighting poles within the camps.
Up until the end of April, all planned activities were completed:
15,000 winter baskets distributed.
6,083 emergency baskets distributed.
Distribution and installation of 2,498 tents.
Finishing tent floors of 1,876 tents.
The total number of beneficiaries by this point were 25,457 families, 127,285 individuals.
In the near future, the project is expected to:
Complete the distribution of emergency baskets and tents.
Obtain additional shipments of NFI baskets and tents.
Completion of the work of the tent cleaning plan.
The implementation of the activity items will start within the next week.