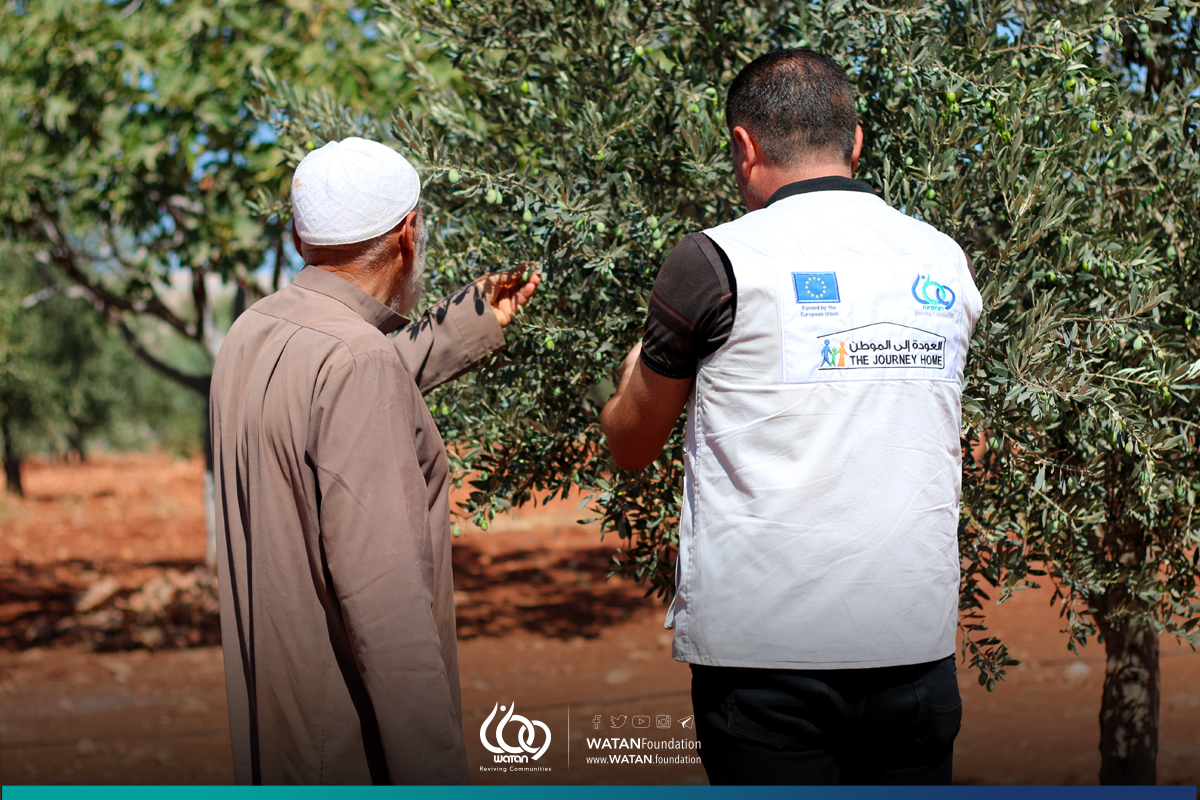 In the fertile lands of northwestern Syria, the olive tree stands as a symbol of blessing, a source of sustenance for generations of farmers. Yet, looming over this vital agricultural sector are the steep costs of medicines and pesticides. This forces many farmers to consider abandoning their olive groves. This unfortunate reality has, in turn, left a mark on the quality of olive production.
In response to this pressing challenge, WATAN has taken proactive steps towards alleviating the burdens faced by olive growers and their dampened spirits. The resulthas been a groundbreaking sustainable development project in northwestern Syria, aimed at empowering local communities economically, and simultaneously uplifting the lives of internally displaced people and local residents. The project places a strategic emphasis on strengthening local value chains.
One of the early undertakings of this ambitious endeavor involved the establishment of associations for olive and vegetable growers in the towns of Killi and Kafr Arouqin the Idlib countryside. These associations are instrumental in providing support to farmers, fostering the exchange of invaluable experiences and knowledge, and facilitating the adoption of cutting-edge agricultural technologies.
With the goal of enhancing production and crop quality, WATAN has partnered with the Vegetable Association to set up state of the art greenhouses. These structures not only create a conducive environment for crops to thrive, shielding them from unpredictable weather patterns but also serve as catalysts for bolstering farmers' economic returns and easing the financial burdens associated with production operations.
Furthermore, WATAN has invested in a specialized olive oil press to extract the liquid gold from the farmers' hard-earned crops. This initiative directly benefits farmers by providing essential oil extraction services and streamlining production processes, thus enhancing their competitiveness in the market.
Beyond the realms of agriculture, WATAN has expanded its vision by actively involving university students in this pivotal rural work. A landmark memorandum of understanding was inked between WATAN and the University of Idlib, with a specific focus on the College of Agricultural Engineering. This collaborative venture aims to equip farmers with essential training and workshops on the significance of olive treesand effective methods to combat diseases that afflict it. This holistic approach paves the way for nurturing a new generation of agricultural experts who are resolute in developing the agricultural sector and propelling the growth of local communities.
An upcoming milestone in this endeavor is the establishment of a dedicated olive oil quality testing laboratory, a resource that will benefit students across agricultural engineering colleges. This laboratory serves as a practical playground for students, where theoretical knowledge finds practical application and skills flourish. Additionally, organized field trips to agricultural fields, overseen by the associations, offer students an immersive experience, allowing them to connect with farmers and understand their unique challenges.
WATAN's unwavering commitment to the betterment of the agricultural sector is a beacon of hope for the advancement of production and support for farmers. This achievement is a testament to the sustainability of agricultural initiatives and the profound impact they have on bolstering the local economy. Such monumental strides are only possible through the unwavering support of local and international partners, who play a pivotal role in sustaining the activities of the WATAN organization, thereby improving the lives of countless individuals in northern and northwestern Syria.
The determination of WATAN and its partners in achieving this success highlights the immense strength that arises from collaboration and perseverance, as we collectively strive to usher in positive change and elevate the living conditions of many. This serves as a resounding reminder that hope thrives when sustained efforts and resolute cooperation come together to transform the world for the better.