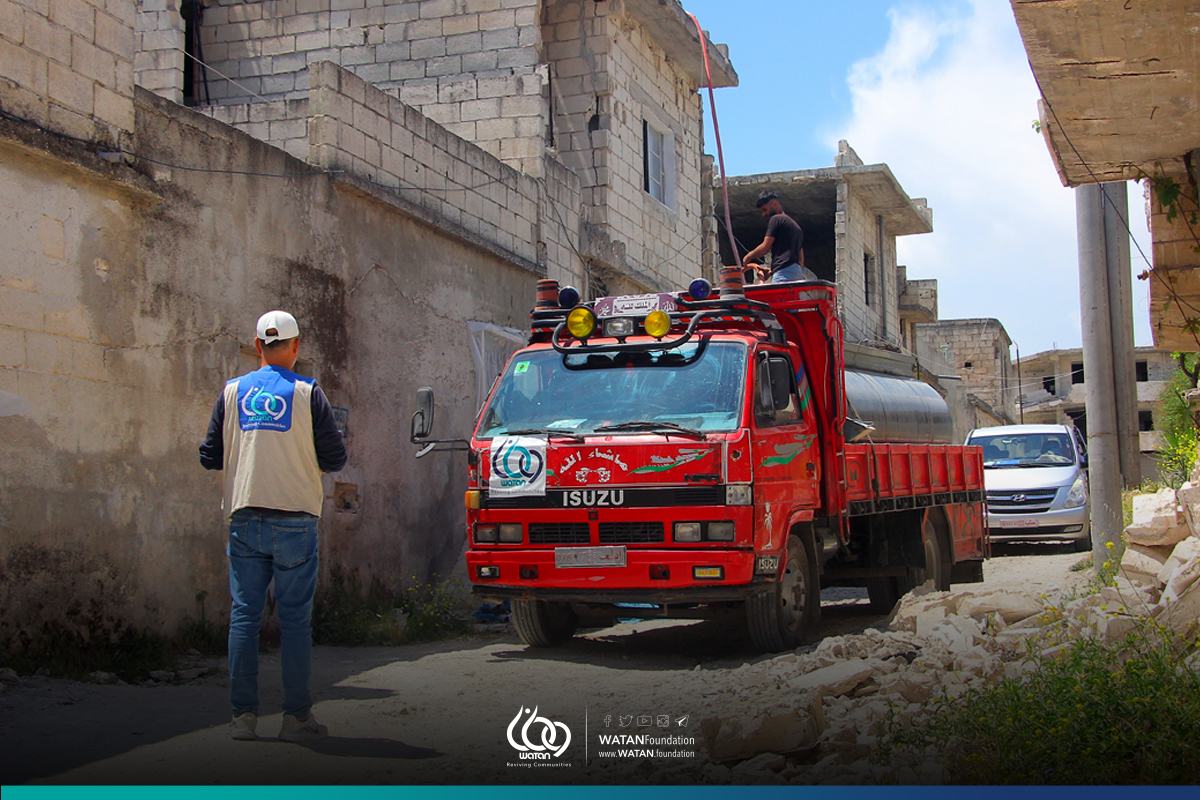 Northern Syria has been facing a dire situation over the past few months with limited access to clean water, exacerbating the needs of hundreds of affected families, especially after the devastating earthquake that hit the region. The families in northwestern Syria depend mainly on buying water from private tankers, which has increased their living burdens. Unfortunately, the local councils are unable to find any solutions due to the near lack of necessary support.
In the Jisr al-Shughour area of Idlib countryside, Um Muhammad, a mother of six, is unable to secure water for her children. She allocates a bowl for them to wash their faces and later uses it to wash clothes and clean the house. "It is possible to give up many things and daily needs, but water cannot be dispensed with, as we need it in all the details of daily life," says Um Muhammad.
Abdullah Al-Mohammed, one of the engineers of the water and sanitation project in the WATAN system, believes that access to water and sanitation facilities, in general, remains a problem, mainly due to the decrease in funding for these activities. However, humanitarian organizations throughout northern Syria are trying to fill the gaps and respond to the multiple needs of the affected families.
To respond to the urgent need for water in the Jisr Al-Shughour area, WATAN teams have been providing sterile water through tanks for more than 750 families affected by the earthquake in the city of Jisr Al-Shughour and 640 families affected in the town of Al-Janoudiyah in the northern countryside of Jisr Al-Shughour. They have also conducted health awareness activities, removed solid waste, and emptied random technical pits scattered in the targeted areas. Ensure that water quality meets international standards, with chlorine testing to ensure conformity.
According to Al-Mohammed, providing access to water and sanitation facilities is crucial for the affected families. Their response has been urgent to secure water through tanks for those families who have lost their homes as a result of the earthquake and remained without shelter. Additionally, a project is underway to operate drinking water stations in the city after it stopped for more than three years, which will be like the return of the pulse and spirit to the city exhausted by bombs and destruction.
Um Muhammad considers securing drinking water the most important of their current needs. Providing it means easing the trouble of searching for water tanks and the effort of drawing water and delivering it to the house's tank. Most importantly, it reduces the financial burden, which costs about 50 Turkish liras, equivalent to three dollars, for each filling, which is equivalent to a full day's work of 10 hours.
WATAN operates water and sanitation services for 23 camps in northwestern Syria, serving about 50,000 people. The activities include distributing hygiene tools, transporting sterilized water in tanks, waste collection, operating water stations through solar energy systems, building water networks sanitation, construction, and rehabilitation of bathroom blocks, as well as health awareness activities and hygiene promotion.
Over the past years, WATAN has implemented sustainable projects that have had a clear imprint in alleviating the suffering of hundreds of thousands of families, thanks to its cooperation with accredited partners.
WATAN's humanitarian work is crucial in providing access to clean water and sanitation facilities to the affected families in northern Syria. By responding urgently to the families' needs and conducting health awareness activities, WATAN is making a positive impact on the lives of thousands of people. However, the decrease in funding for these activities remains a challenge, and the support of donors and supporters is crucial to continue the life-saving work of WATAN.