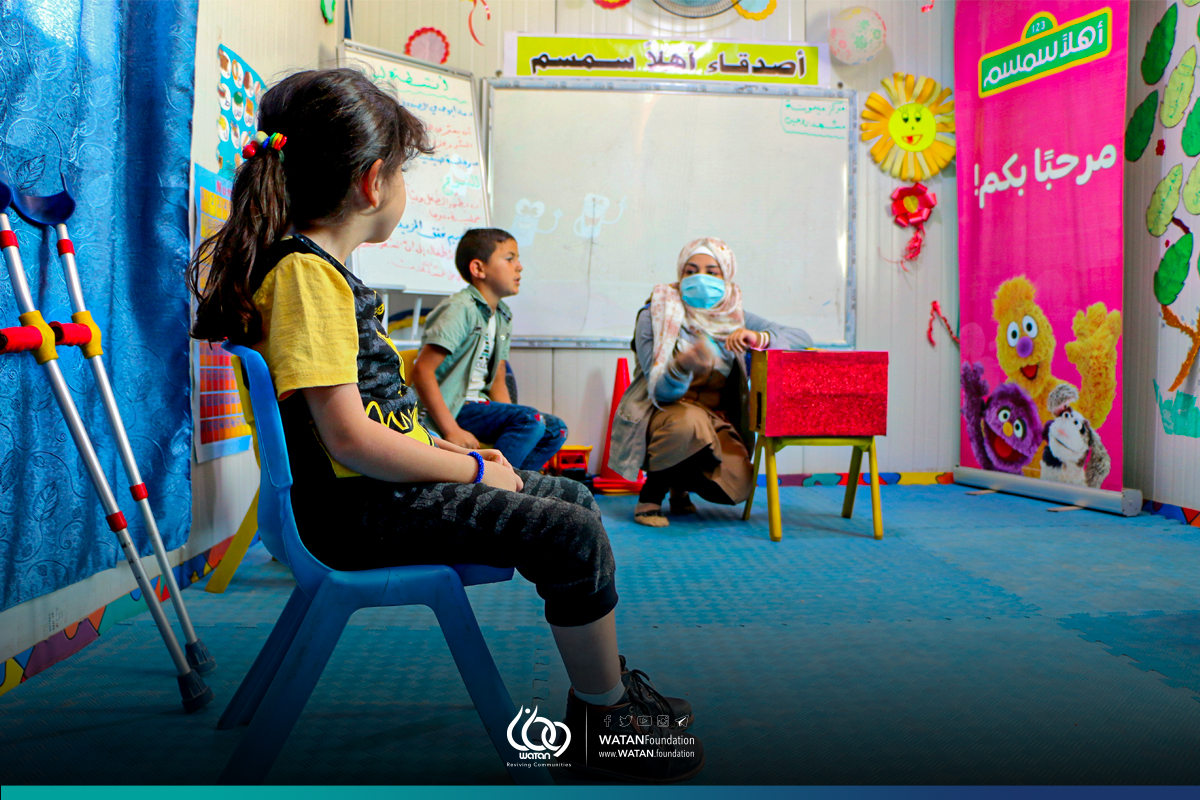 Rania is a six-year-old girl from the occupied city of Maarat al-Numan. She suffers from a birth disability (brain atrophy). Although she partially recovered from it in the first months of her life, it affected her normal growth. She also has some difficulties in the sense of pronunciation.
Rania's mother told us about her condition: Rania had a problem adapting to her condition, her type of disability, her constant feeling of inferiority that distinguishes her from other children of her age, and her constant refusal to play with other children until the WATAN team came and visited us at home, and here the success story began.
At first, Rania refused to attend the center, saying: (I cannot carry out the activities because I am disabled), but when she heard the words of the team, its encouragement and perseverance in convincing her, she came herself and asked me to go with her to the center. Rania began attending sessions and activities at the center. Her first activity in our center was to color the characters of Ahlan Simsim and draw some beloved characters such as (Elmo and Basma and other characters). As well as the activities I practiced in the center is the maze activity.
Although it was difficult for her to move, but she began to encourage herself to be a part of this activity. Her friends at the center started encouraging her and helping her to get moving. We saw the joy on her innocent face and the smile that never left her soft lips.
The mother adds: She started applying what she had learned at home, and her life was changing for the better.
The mother continues, saying: She eagerly awaits the sessions every day, and has also made some friends in the center.
As for Rania's feeling after the sessions, she described it to us: (I love Ahlan Simsim's friends a lot, and in the future I will become a doctor and help disabled children).
And her mother concluded, saying: The activities applied in the center were wonderful and commensurate with Rania's disability, and she did not feel any difficulty during the implementation of the activities.