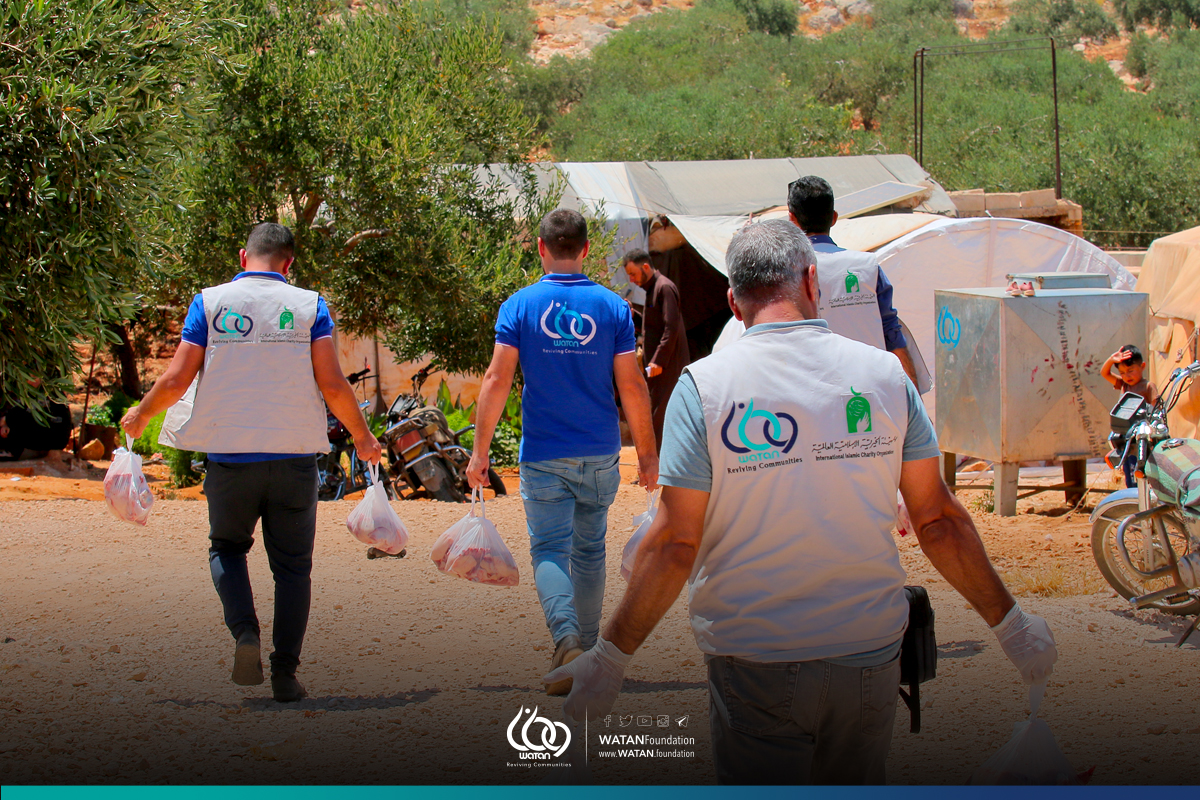 The celebration of Eid al-Adha holds profound significance for communities worldwide, and northwestern Syria is no exception. However, this year, we faced unprecedented challenges in ensuring displaced individuals had access to sacrificial meat. Soaring livestock prices compelled several associations and humanitarian organizations to scale back their efforts, limiting the slaughter and distribution of sacrificial animals. Moreover, the extreme economic inflation further exacerbated the difficulties faced by families, hindering their ability to partake in the time-honored traditions of Eid.
Amidst these trying circumstances, WATAN, determined to make a tangible difference in the lives of those most in need and in close collaboration with the Islamic Charity Organization, began distributing meat in camps where the most basic necessities were scarce. This initiative aimed to satiate immediate hunger and foster a sense of unity and community spirit within the camps.
One such camp where WATAN has had a profound impact is the Al-Maqla camp nestled in the picturesque Idlib countryside. Here, we had the privilege of speaking with Hajja Um Ahmed, a resilient 61-year-old woman displaced from the Aleppo countryside. With unwavering determination, she takes care of her five beloved grandchildren, shouldering the responsibility of providing for their needs. In past years, she relied on the distribution of sacrificial meat to share the blessings of Eid with her family and fellow displaced individuals. However, this year brought new challenges, as assistance had yet to reach her.
In response to these ongoing needs, WATAN's dedicated teams continue to deliver effective services to vulnerable individuals in collaboration with the Islamic Charity Organization. Together, we ensured the distribution of sacrificial meat in camps that had been deprived of the most basic essentials for life. Mahmoud, a member of the WATAN team, shares that the provision of sacrificial meat has alleviated the burden weighing on the residents of the Al-Maqla camp. Their economic struggles had previously prevented them from celebrating the holiday traditionally. Mahmoud also emphasizes that this Eid was different from previous years, with individuals facing difficult challenges in acquiring and distributing meat. Consequently, displaced individuals and camp residents look to humanitarian organizations like WATAN for solace, assistance, and the fulfillment of their essential needs.
In the words of Hajja Um Ahmed, her heartfelt gratitude knows no bounds as she received her share of three kilograms of meat. Determined to make the most of this gift, she plans to prepare a feast over the course of four days, artfully combining the meat with succulent eggplants, tender zucchinis, and aromatic grape leaves. The anticipation of witnessing the joy and happiness on her grandchildren's faces is a testament to our services' impact on those we serve.
At the forefront of these vital efforts, WATAN continues to provide services to vulnerable individuals through our valuable partnerships with donors. Together, we have witnessed the transformative power of even the smallest acts of kindness. These initiatives highlight the potential to create a profound and lasting impact on the lives of those affected by crises and disasters.
In this spirit of solidarity and compassion, we remain steadfast in our commitment to providing a dignified and secure life for the people of Syria. We invite each and every one of you to join us in our mission to rebuild, restore, and bring lasting peace and stability to this resilient nation.
We thank everyone who contributed unwavering support, which enables us to make a meaningful difference in the lives of those most in need.