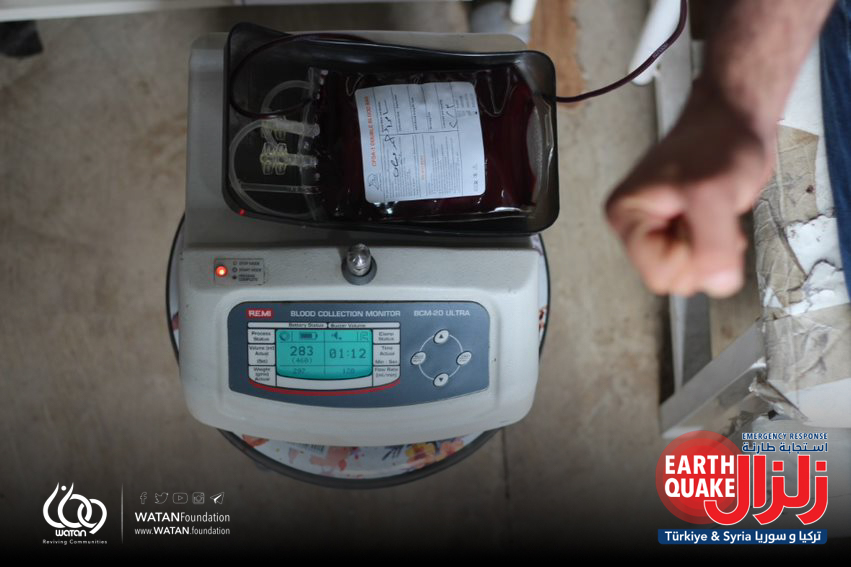 Despite the grim conditions that the destructive earthquake of Turkey and Syria has left, there is always something that calls for optimism and hope.  Within the first few hours of the earthquake the tragedy was heavy and the number affected was already large. In response to this many people went to WATAN's centers to donate blood and to stand by their affected brothers and sisters and it was a beautiful image where people were helping each other with one goal. What's important to mention is that the blood donation campaign that was launched to meet the extra demand for those injured was distributed immediately and efficiently after the earthquake to many of WATAN's centres.
WATAN also mobilized all the staff in its hospitals and medical centers in northwestern Syria and to make sure they had access to all the equipment and supplies available to them to save the lives of those injured as a result of the earthquake. WATAN also launched a campaign to collect donations through its official website and social media platforms to secure additional equipment and fund these activities.
The main focus of WATAN's medical program is to provide sustainable support to medical facilities as well as emergency response by covering the salaries of medical personnel, operational costs, medicines, transportation, as well as restoring centres previously affected by the war in Syria with the aim of contributing to stable health system in Syria which can care for its residents. WATAN supports three blood banks that operate 24 hours a day, seven days a week in Salqin city, Idlib governorate, and in Marea Complex in Azaz, Aleppo Governorate.
The blood bank in Salqin is supported by an electrophoresis device and samples are collected two days a week. The blood bank is also used to treat individuals with ill eases such as thalassemia. In December 2022, this blood bank provided treatment for 76 patients with thalassemia under the supervision of hematologists. As well as this, the center continues to provide laboratory diagnostic services. As for the blood bank in Marea In the Azaz region, blood donation campaigns and laboratory services continue regularly, along with oxygen cylinder distribution services to nearby hospitals and health facilities.
In 2023, since its inception, the number of beneficiaries of the medical program has reached more than 1,400,000 direct beneficiaries. And the number of beneficiaries continues to increase as WATAN expands into more areas and provide specialized trainings for healthcare professionals.
WATAN follows various pillars to provide quality medical services, by fully equipping facilities, employing skilled medical personnel, with specialty knowledge to provide a rapid response.
WATAN also targets the besieged or hard-to-reach areas to provide health-care services where they are needed the most. WATAN always aims to be the first to implement innovative emergency response plans to mitigate the slow response procedures which can have dire consequences when it come to healthcare.