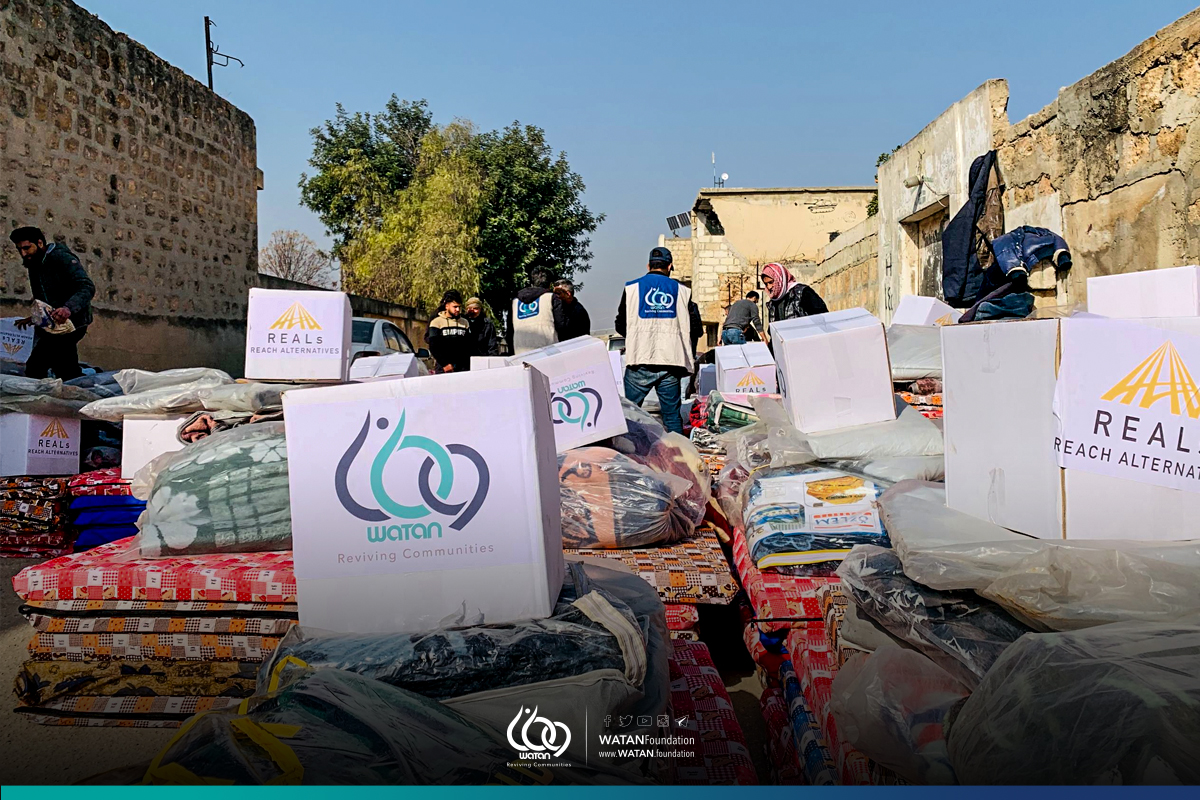 On February 6th, the northwestern region of Syria was hit by a devastating earthquake, leaving countless families without homes and basic necessities. The WATAN Foundation acted promptly to the crisis, establishing temporary shelters and providing essential aid to affected families.
Field Team Leader, Mustafa Badawi, stated that many families who received a tent in one of the temporary centers may not find any source to secure warmth for children and the elderly, coinciding with an economic crisis witnessed by those families, especially during the winter months. "Our teams responded by distributing emergency kits within the affected communities and shelters spread in the countryside of Idlib and Aleppo, where the number of distributed kits reached 7,995 baskets until March 10th," he added.
Abu Shahada, a resident of Jandaris town, who took refuge with his relatives in Al-Fu'ah town in the countryside of Idlib, expressed his gratitude for the aid provided by the WATAN Foundation. "We thank God that we came out safely from under the rubble of our house, and I could not get any item out of the house. After arriving in the town of Al-Fu'ah, I was one of the beneficiaries of the emergency aid baskets provided by WATAN Foundation, which was able to meet one of our needs as we had nothing," he said.
In collaboration with partners such as REALs and SAMEERA, the WATAN Foundation has distributed emergency kits and cooking materials in various areas in the countryside of Idlib and Aleppo. The foundation has launched a fundraising campaign through its official website and social media platforms aimed at providing immediate support to families affected by the earthquake.
WATAN's teams continue to respond around the clock in all earthquake-affected areas of northern and northwest Syria. In 2023, the foundation distributed 43,900 emergency baskets within camps and communities in northwest Syria, which suffer annually with the coming of winter. The Shelter and Non-Food Items program seeks to increase the development of a rapid response network to expand coverage and reach areas that are easily accessible, thus increasing the number of beneficiaries and achieving sustainable results.
The situation in northwestern Syria remains challenging, and the WATAN Foundation's efforts are critical in providing support to affected families. We urge supporters, donors, and international and global organizations to continue to support the foundation's vital work in providing aid to those in need.
In conclusion, the WATAN Foundation's response to the earthquake victims in northwestern Syria highlights the importance of humanitarian aid and support during times of crisis. The foundation's prompt action and dedication to serving those in need have made a significant impact on affected families, providing essential aid and support to ensure their safety and well-being. We call on all those concerned about the situation in northwestern Syria to join us in supporting the WATAN Foundation's mission to provide relief and assistance to vulnerable communities in the region.