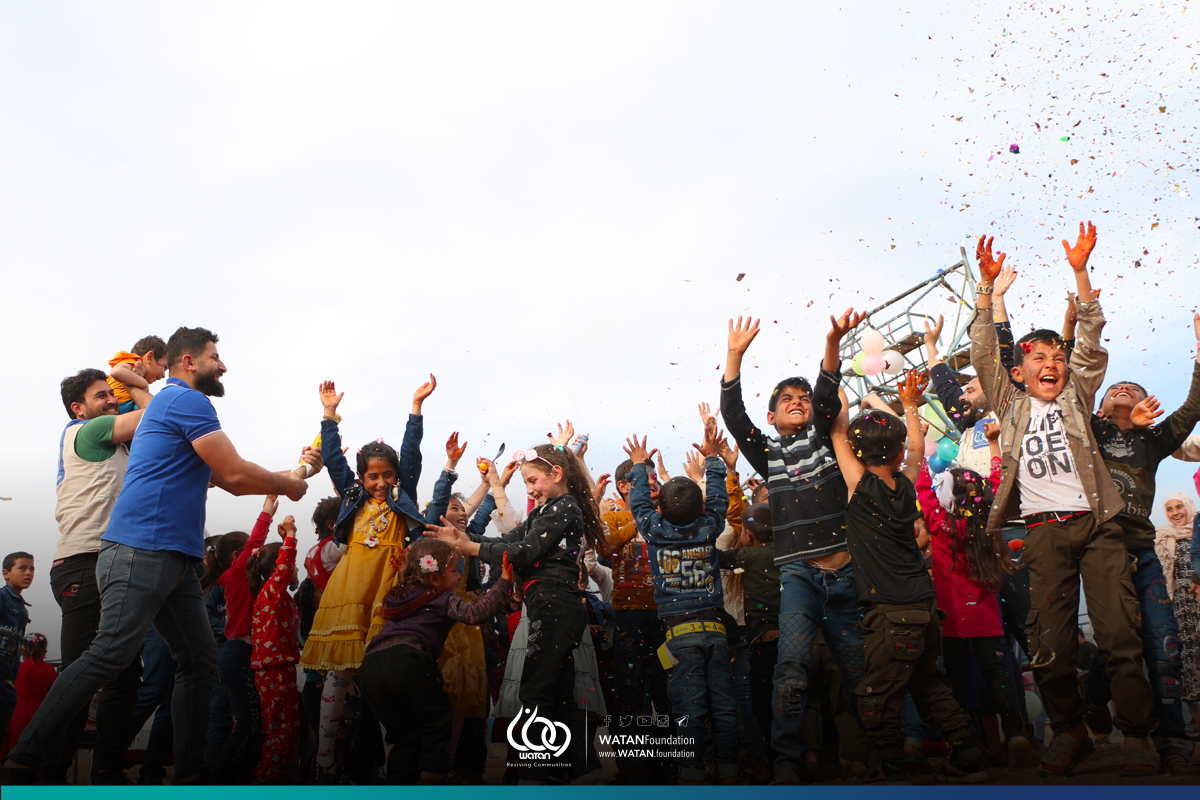 Living in Syria has become increasingly challenging due to a decade-long war, economic crises, and the global COVID-19 pandemic. Northwestern Syria, in particular, has been under siege for several years, making it difficult for citizens to access basic necessities of life. Approximately 1,000 camps in the region lack electricity, facilities, health, educational services, and job opportunities, making it impossible for displaced individuals to lead decent lives. However, civil society organizations like Watan have worked tirelessly to improve the situation and provide the necessary services to vulnerable individuals.
Even though the blessed month of Ramadan has passed, parents are still trying to bring joy to their children's hearts through available, simple means. For instance, Abu Ahmed, one of the residents of Hezan camp in rural Idlib, is taking his children to the playground in Harbnoush, about five kilometers away from the camp. Due to the lack of job opportunities and the insane rise in prices, Abu Ahmed's children cannot buy new clothes, and they have lost the joy of receiving the usual Eid that they used to receive in their town before displacement. However, Abu Ahmed managed to save a little money to take his children to the amusement park in the town adjacent to the camp.
WATAN has been at the forefront of providing effective services to vulnerable individuals. They have implemented recreational activities for children, especially in camps that lack any means of entertainment or even a safe place for children to play. Awad, a member of WATAN team, shared that the joy of Eid was shared with the children of Hezan camp, adding that children in the area resort to popular games spread in the streets that are available at cheap prices for families who go to them on several occasions.
To compensate for the bitterness of displacement and war, WATAN brought popular amusement park games that were easy to move around and install. They primarily included swings and some different games. They also implemented recreational and movement activities that created an atmosphere of joy and happiness for children, such as balloon inflation and a challenging game in which children moved balls across spoons.
The people of the camp joined in the joy with their children by helping the WATAN team prepare swings and games. Abu Ahmed expressed his happiness at seeing the joy in his children's eyes during Eid, and he thanked the Watan Organization and its employees for their blessed efforts in making these little angels happy.
The impact of WATAN s humanitarian work has been significant, with their efforts making a positive difference in the lives of vulnerable individuals. Their efforts have shown that even small acts of kindness can make a big difference in the lives of those affected by crises and disasters. Watan's commitment to serving vulnerable individuals is commendable and deserves recognition and support from the target audience of supporters and donors.