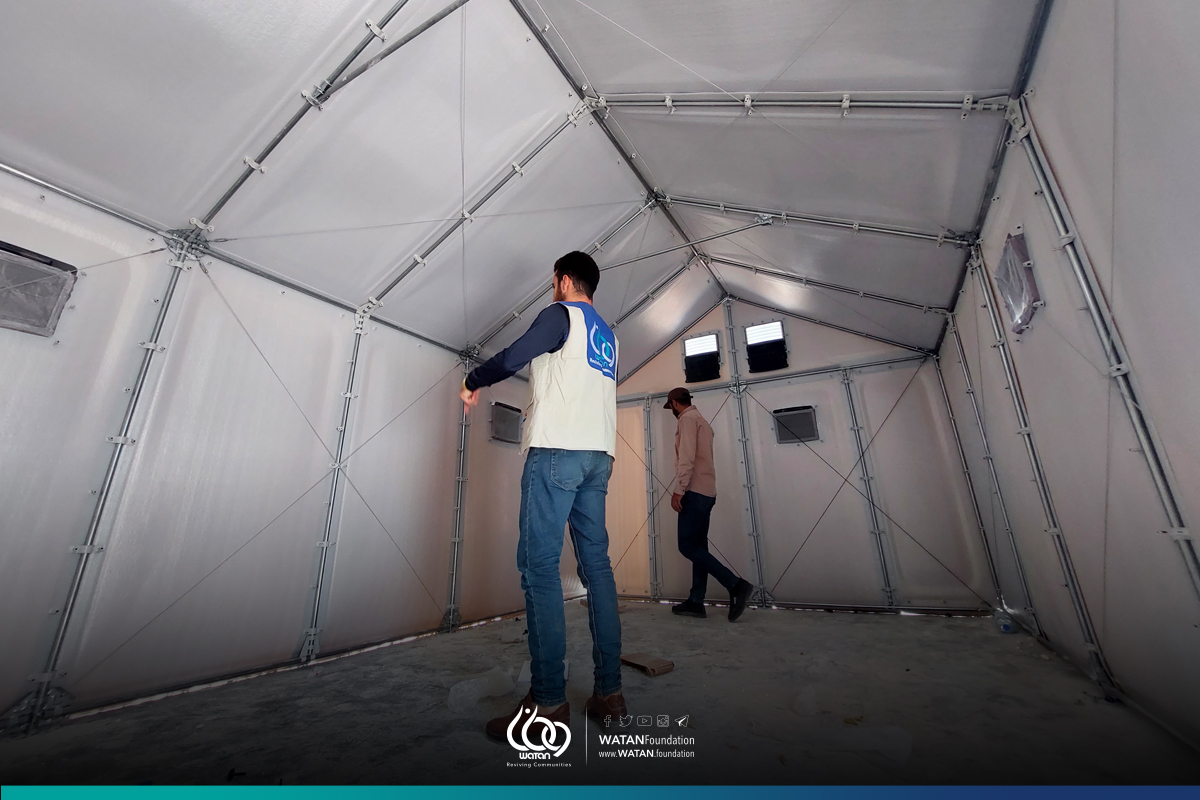 The aftermath of the devastating February 6th earthquake in Syria led to internal displacement in various regions. However, what was intended as a temporary refuge for affected residents turned into a prolonged struggle as they faced multiple displacements over the past years.
The families whose homes were ravaged by the earthquake found themselves seeking shelter in displaced persons' tents. These makeshift shelters, barely offering protection from the elements, left families exposed to rain and cold. Despite their hardships, the displaced families extended a helping hand, welcoming others in need, within the Rural Aleppo camp established by WATAN in partnership with the UN High Commissioner for Refugees (UNHCR). The camp has become a symbol of resilience and solidarity, as families strive to rebuild their lives and restore a sense of normality.
As the influx of earthquake-affected families overwhelmed the camp's capacity, WATAN's dedicated engineering teams rose to the occasion. Recognizing the need for expansion, they initiated a comprehensive camp expansion project, introducing innovative Residential Housing Units (RHUs) equipped with private bathroom facilities. These RHUs, constructed from insulated compressed fibers, have been designed to endure the harshest weather conditions, including storms and heavy rainfall. Additionally, the implementation of poured concrete frames for the unit floors ensures a smooth, polished surface while effectively deterring insects and reptiles.
Ensuring the overall well-being of the displaced population, WATAN has prioritized critical infrastructure improvements within the camp. Extending sewage and water lines has not only addressed sanitation needs but also enhanced the site's overall hygiene standards. Furthermore, the installation of nighttime lighting has mitigated the risks of accidents and facilitated safer movement within the camp during nocturnal hours. Through these strategic measures, WATAN aims to create a safe and sustainable environment that fosters health, resilience, and a sense of normality.
WATAN firmly believes that projects of this magnitude can only be achieved through the support and generosity of donors and the international community. These initiatives ensure that affected individuals regain their dignity and embrace a brighter future.
In the face of ongoing challenges and hardships in earthquake-affected regions, the dedicated team at WATAN remains steadfast in its commitment to providing assistance and support to those in need. With a focus on both temporary and permanent housing solutions, as well as access to healthcare, Watan continues to uplift displaced families and empower them to rebuild their lives.
Together, through local and international partnerships, WATAN strives to expand its reach and enhance its capacity to assist an even greater number of vulnerable individuals. It is the continuous and sustainable support from donors and partners that ensures the ongoing delivery of vital aid and drives positive change in the lives of those affected by the earthquake.