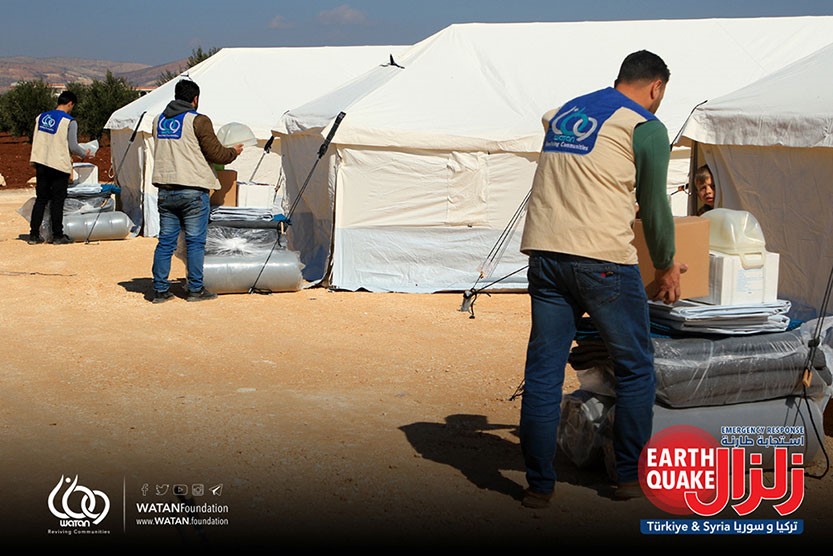 The first terrifying moments of the earthquake were the same for everyone, but the end was different. A difficult and painful end for the homeless and frightened survivors who are unable to regain any stability. The world around them is unsteady, filled with loss and confusion.
The cities of Salqin and Jandiris were of those worst affected by the disaster, with great damage to buildings and infrastructure. Displaced families have settled in mosques, fields and farms surrounding their destroyed homes – some of which there is still the threat of collapsing. The situation of neighboring  cities is not better, with many residential buildings having fallen over the heads of their inhabitants. Some individuals stayed in hope they would find loved ones among the rubbles and some tragically lost their lives.
The Watan field team tragically lost one of their teammates as a result of the devastating earthquake along with relatives, friends and neighbors. Some became homeless along with their families and were placed in temporary housing or outside in the very low temperatures. However despite this they came together on the front lines, to respond to those in need.
Watan teams worked to establish temporary shelters in Jericho (Al-hadiqa Al-'ama ), Sarmada (Al-Kamuna Camp), Al-Tawamah (Al-Mohandeseen Camp), Jenderes: (Haj Iskandar), Killi: (Karaj Killi), Atmeh (Kafr Nabudah Camp), Harem (Harim Al-Madina), Maarat Misrin (Al-Madina), Jisr Al-Shughour (Al-Maland Town) and Al-Atareb (Al-Madrasa North – School of Industry, Souran Al-Madina,  Jenderes Al-Madina)
A total of 900 units were set up across the centers and there is the ability to expand and accommodate a larger number if needed. The shelter program management team communicated with donors interested in supporting the project to secure additional housing units urgently as well as the basic needs within the area which would include heating during the cold weeks ahead and food.  As part of its response Watan also launched a campaign to collect donations through its official website and social media platforms, to fund the important work being carried out in northern Syria and Turkey.
Before the disaster, Watan was working to establish the Dar Al-Karam complex consisting of prefabricated housing units in caravans. These would improve the infrastructure in the camp to ensure a safe and decent life for its residents. It also presented projects that include building prefabricated housing units (RHUs) in various areas in northwestern Syria.
Another important part of the program is the distribution of non-food items. This occurs in various forms such as distribution of daily life non-food items such as seasonal clothing, cooking equipment, shelter kits and heaters. The first non-food program was launched at the end of 2012 and as a result of the donations collected, 3,000 blankets and 10,000 sleeping bags were distributed to the displaced. Alongside this project in the same year, Watan continued to distribute 4,000 blankets in 20 districts in Tripoli, Lebanon to help refugees in dire need of basic winter necessities. Since then, Watan's shelter and NFI program has come a long way. It has expanded significantly in north and northwest Syria and is working to secure emergency kits such as tents, blankets and kitchen sets for the newly displaced. In 2023, the number of beneficiaries from the shelter and non-food items program reached more than 1,700,00 beneficiaries.